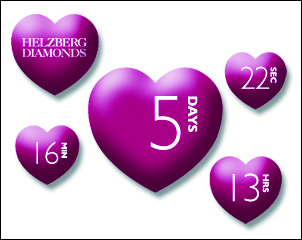 This is the time to recognize that special person in your life so don't let it go unnoticed
Kansas City, MO (PRWEB) February 8, 2006
Forgetting Valentine's Day isn't an option. Just ask someone who's done it. That's why Helzberg Diamonds has created a free desktop reminder that counts down the minutes to February 14.
The Valentine's Day countdown widget is available for free at Yahoo! Widgets for both PC and Apple computers. If you don't have the Yahoo! Widget Engine software, it's easy to install. Look in the widget gallery for the countdown icon with five burgundy hearts. When downloaded to a computer, this cluster of hearts sits on the desktop and counts down the days, hours, minutes and seconds until February 14.
And, for those with an Apple computer with Mac OS X 10.4 (Tiger), the countdown widget is also available through Apple Dashboard. This Valentine's Day countdown was Apple's featured widget for several days in early February.
"This is the time to recognize that special person in your life so don't let it go unnoticed," said Marvin Beasley, CEO for Helzberg Diamonds. "We thought this widget would be a fun way to help remember to celebrate the day."
A widget is a helpful desktop icon that provides entertainment and up-to-date information on a variety of topics, from the minutes to Valentine's Day to the weather forecast.
Helzberg Diamonds has over 500 gift ideas under $100 this Valentine's Day. Helzberg Diamonds is a retail jewelry company that has over 260 stores across the United States selling fine jewelry, including a wide selection of diamonds, precious gems and watches. Helzberg Diamonds takes pride in its 90-year heritage of offering exceptional value and personal customer service. Helzberg Diamonds is based in North Kansas City, Missouri, and is part of the Berkshire Hathaway, Inc. (NYSE symbol BRK/B) family of companies. For the locations of Helzberg Diamonds stores nearest you, call toll-free (800) 562-2835, or go to http://www.helzberg.com.
Contact:
Stacey McBride
816.627.1265
Lathi de Silva
316.263.0124
# # #