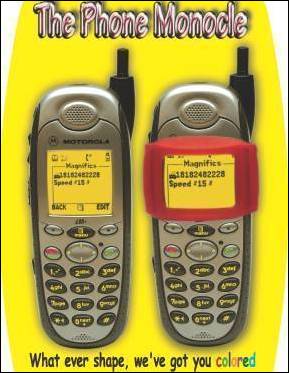 More and more people are purchasing The Phone Monocle for lots of other hand held electronic devices like Ipod's, home phones and now it is entering into the medical field market of Diabetic Retinopathy
La Crescenta, CA (PRWEB) February 10, 2006
Magnific's Inc. created The Phone Monocle in 2003. They designed it for magnification of cell phones and home phone display screens. The Phone Monocle was designed by two entrepreneurs, an ophthalmic surgical tech and an electrical contractor to enable persons over 40, post Lasik, seniors and vision impaired to improve the clarity and magnify their cell phone screens.
Now after being on the market for 2 years this little magnifier is gaining speed and catching on. After a few runs on local and non-local news stations and radio shows, magazines like Mobil Magazine, Inventions & Innovations, and Popular Mechanics and Entrepreneur magazine. "More and more people are purchasing The Phone Monocle for lots of other hand held electronic devices like Ipod's, home phones and now it is entering into the medical field market of Diabetic Retinopathy" states Frank Pineda, COO of Magnific's Inc.
The way Magnific's designed The Phone Monocle, it is able it to fit the many different styles of cell phones, home phones, GPS and Ipod's. Now the orders are coming in for magnification of Insulin Pump screens.
"While these diabetic (Diabetes Mellitus) patients deal with the insulin production and consumption in their bodies they are using these insulin pumps to keep a healthy balance. The problem is they often have less than 20/200 vision and are unable to recognize the characters on the Insulin pump itself" explains Joanie Taylor CEO of Magnific's Inc. Magnific's is growing steadily and is extremely please that their magnifier is being used to create a more clear and precise vision for the Ophthalmic and medical communities.
For more information, brochures and literature please contact: Magnific's Inc. website http://www.thephonemonocle.com.
# # #