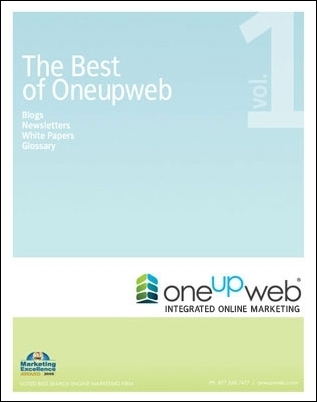 We've created a valuable reference for marketers to use throughout the year
Lake, Leelanau, MI (PRWEB) February 10, 2006
Oneupweb, the trusted leader in search engine optimization (SEO) and marketing (SEM), today announced The Best of Oneupweb, a free downloadable collection of its best blogs, newsletter articles and white papers available at http://www.oneupweb.com. The compilation serves as a resource tool to learn the what, where, why and when of search engine optimization and marketing.
"We've created a valuable reference for marketers to use throughout the year," explains Oneupweb founder and CEO Lisa Wehr. "We selected library articles that we perceive as some of the upcoming year's most important information."
Focusing on key issues marketing professionals will find insight and solutions to their common SEO and SEM challenges and needs, such as the future of mobile search and how it will influence digital purchasing, when to prepare PPC campaigns for peak seasons and web development technology.
Other areas of interest covered within The Best of Oneupweb include:
How to make your blog work to your marketing advantage
Understand the value of optimizing your site
Don't overlook the obvious in maximizing sales and conversation rates
Find out how to build SEO into your new site
The 63-page resource is the first volume in a series to come from Oneupweb. With contributions from the best minds in the industry, the Oneupweb team, readers will take away knowledgeable ideas, experiences, solutions, best practices and feedback on a variety of important issues related to SEO and SEM. With specific case study examples you can calculate and consider your possible ROI from an SEO campaign and find out the length your keywords should be for positioning on the first pages of Google.
Download The Best of Oneupweb at oneupweb.com. And keep your eye out for the volumes to come.
About Oneupweb
Oneupweb creates integrated online marketing plans that include natural search engine optimization, paid search marketing, mobile search marketing, online marketing research, marketing analytics, online advertising creative and online media services. Clients include Unisys, Maritz, LasikPlus, Schwan's, Silkflowers.com and Imagistics, among others. Oneupweb is the only two-time winner of the prestigious ClickZ Best Search Engine Marketing Vendor Award. And company founder and CEO, Lisa Wehr, an Ernst & Young Entrepreneur of the Year, has been named to BtoB Magazine's Who's Who List twice and recognized as a Leader & Innovator by Lawrence Technological University. The company publishes an SEO / SEM newsletter OneUpNews and blog StraightUpSearch. Oneupweb is a privately held company located in Michigan. For more information on Oneupweb, please contact 231.256.9811 or visit Oneupweb.com.
# # #