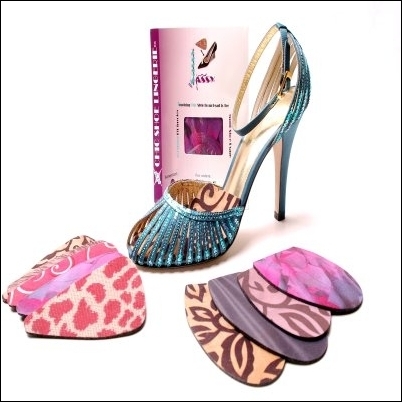 we are proud to be a part of our first WSA showcase where unlimited fabulous shoes from well-known designers and new trendsetters are showcased, and look forward to meeting many retailers and boutique owners.
Atlanta, GA (PRWEB) February 10, 2006
Image matters from the inside out, and many options are available to satiate this belief, including great shoes. Innovator and inventor, Cheryl D. Scales, travels to the World Shoes & Accessories Show in Las Vegas, to premiere a new accessory to enhance this lifestyle belief for retailers and boutiques who want to surprise their customers and increase their transactions. mySassySassy's debut of their award-winning line of fashion insoles also known as Chic Shoe LingerieTM to buyers from around the world happens February 10-13, 2006.
The product was inspired out of an unmet need for true fashion choices for women who embrace a trendsetting lifestyle. More than just an insole to mySassySassy's customers, who actually named the product 'chic lingerie for your feet" because of its similar benefits to body lingerie. There are many color designs to match any wardrobe, and new designs added each season. Cindy, a San Francisco early customer exclaimed, "who cares if no one ever sees them. Some may never see my body lingerie but I know it matches, and I feel wonderful from head-to-toe."
More than 40 designs are available in two shoe styles, American and European, which is the world's first pointed-toe product of its kind. A unique product benefit is the sassie covers the full front half of a woman's shoe so it helps deliver great fit and confidence when a woman strolls or kicks off her shoes. There are three sizes available up to ladies' 12. Chic Shoe LingerieTM also has no side effects such as peeling, crumbling, or gumminess, and it over delivers easy flexibility to use the sassie in more than one pair of shoes.
According to Scales, "it's an experience that feels like a massage to every step. The feeling should be illegal, but it's just stepping sassy." Scales is a shoe expert with more than 500 pairs from shoe designers around the world. As consumers, many times one foot is larger or wider than the other. Many women do not have their foot measured for sizing by designer. mySassySassy's fashion insoles step forward to deliver a fashion and a function benefit in surprising and delightful ways. As Chief Sass Officer, Scales added, "we are proud to be a part of our first WSA showcase where unlimited fabulous shoes from well-known designers and new trendsetters are showcased, and look forward to meeting many retailers and boutique owners."
# # #