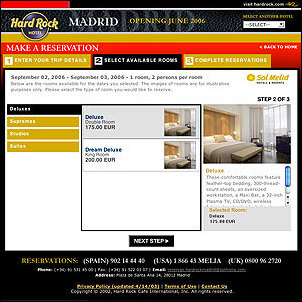 We found that the previous booking engine which was developed using Macromedia Flash was rigid and inflexible in terms of maintenance and customization
West Palm Beach, FL (PRWEB) February 10, 2006 -–
Hard Rock Hotel's is scheduled to debut one of its newest properties this spring in Madrid, Spain. Hard Rock Hotels was looking for a new intuitive graphical user interface for its booking engine which would allow consumers to easily book their stay at the hotel.
Sol Melia Hotels and Resorts, Hard Rock Hotel's management company for some of its properties, turned to its interactive agency on record Boalt Advertising for the solution. Boalt Advertising has designed and developed several booking engines since its inception for hotels such as Paradisus, Gran Melia, Royal Palm in South Beach and Paramount Hotel in New York.
The new Hard Rock Hotel booking engine includes a simple three step process where the sections of the screens update themselves dynamically to present the user with feedback immediately using AJAX. AJAX, known as Asynchronous JavaScript and XML, communicates with the server without refreshing the page such as traditional web applications. Ruby on Rails the web framework, allowed Boalt Advertising to develop and rapidly deploy custom booking engines for each hotel.
Hard Rock Hotels decided to leverage new technologies such as Ruby on Rails and AJAX to create a more compelling and robust booking experience. "We found that the previous booking engine which was developed using Macromedia Flash was rigid and inflexible in terms of maintenance and customization" said Nick Dominguez, Art Director from Boalt Advertising. It was also difficult for Boalt Advertising to track abandoned bookings with the Flash engine. The new and improved AJAX engine provides a modular solution that is light, scaleable and maintainable.
In addition, "Ruby on Rails has provided Boalt Advertising with the ability to deploy complex web applications in weeks rather then months" said Bill Teubner, President of Boalt Advertising.
Boalt Advertising is a full-service advertising agency based out of West Palm Beach, Florida. By combining a variety of interactive capabilities and traditional marketing services with a unique approach to lead and sales generation, Boalt Advertising focuses exclusively on using media and technology to deliver unmatched results. Over the course of our six plus years in existence Boalt Advertising has crafted creative and eBusiness solutions for clients as diverse as Bacardi, FedEx and P. Diddy.
For more information about Boalt Advertising, please visit http://www.boalt.com.