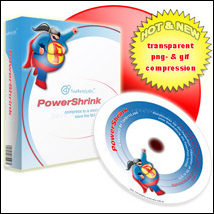 There is a shift from buying a few PowerShrink licenses just for 'companies' PowerPoint-Cracks' to installing PowerShrink on every PC within a company to give all users and employees the opportunity to optimize and compress their presentations
Frankfurt, Germany (PRWEB) February 13, 2006
A lot of companies hassle with large PowerPoint presentations that tend to have more and more pictures in them, making them very difficult to send via e-mail due to company e-mail server policies on attachment sizes, as well as making them more difficult to store on already full data servers. Companies can now use TopByteLabs' newly released PowerShrink Version 2.1, which optimizes PowerPoint presentations while compressing them up to 95 percent. The compressed presentations stay fully functional, without changing the contents and file format of the PowerPoint file.
New features of PowerShrink 2.1 include an improved, more stable and reliable compression, with improved picture quality for .gif and .png files. Various options allow users to find the perfect balance between shrinking and quality. A context menu and PowerPoint integration provide maximum comfort for users. PowerShrink is available as an install-version and as a single-.exe-file, which makes network installation much easier.
Seeking cost-effective ways to send large Microsoft PowerPoint presentations via e-mail, companies are transitioning from sending presentations on CD/DVD media parcel post to shrinking them with PowerShrink.
"There is a shift from buying a few PowerShrink licenses just for 'companies' PowerPoint-Cracks' to installing PowerShrink on every PC within a company to give all users and employees the opportunity to optimize and compress their presentations," says Michael Weber, CEO of TopByteLabs. "That is why we developed our enterprise license package for a low fixed price.
PowerShrink is available at http://www.powershrink.com. A fully functional free trial version is available for download. The enterprise license covers an entire company and is available for $5,590.00 USD. A single license is $34.95 USD.
Contact:
Michael Weber, CEO
TopByteLabs Ltd., Germany
Phone: +49 (0) 16 35 50 39 44
Fax +49 (0) 69 24 29 56 30
http://www.powershrink.com
http://www.topbytelabs.com
# # #