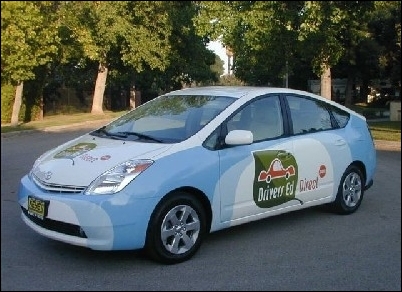 So we teach our students in a setting they enjoy, using the internet.
Los Angeles, CA (PRWEB) February 13, 2006
Drivers Ed Direct (DriversEdDirect.com), the driving school that is revolutionizing the drivers education industry, announces the launch of an upgraded web-based interactive technology, behind-the-wheel training based on today's vehicles and our distraction-filled driving environment and a specially developed research-based online curriculum. The program is more effective with teens. And it incorporates the needs and participation of parents into the process.
Based in the San Fernando Valley and serving all of Los Angeles, California, Drivers Ed Direct combines engaging interactive technology with the latest driver safety curriculum, teaching students in a language they understand. Recent studies show that internet-based training is more effective than classroom courses in keeping students engaged. Additionally, traffic safety researchers prefer interactive, online methods to traditional classroom teaching. Drivers Ed Direct leads the industry and uses interactive, self-paced online drivers education coursework.
"At Drivers Ed Direct we believe that putting safety first does not mean putting the needs of our students last," said Eric Creditor, Co-founder and Chief Operating Officer. "So we teach our students in a setting they enjoy, using the internet."
Drivers Ed Direct is run by the same team of professionals and instructors that founded TrafficSchool.com, leveraging more than 50 years of experience in the drivers education and traffic school industry. Today, Drivers Ed Direct employs California's most seasoned and experienced drivers education instructors. These professionals have specially designed a training process that combines today's technologies with five decades of effective teaching practices.
"Our mentor approach is much more effective with teenage drivers than the typical authoritative style. And, our curriculum goes beyond the DMV requirements,' adds Drivers Ed Direct President Jimmy Leach.
"In my 15 years in the traffic school and drivers education industry, I've seen what works and what doesn't," continues Creditor. "By replacing old cars, dimly-lit sterile classrooms and out-of-touch instructors with new technology, updated materials and experienced instructors, teens will want to learn and that's more effective."
Leach agrees, "In order to properly train teens as successful drivers, the education program must involve today's cars, technologies and driving environment with the normal distractions of cell phones and other mobile technologies."
Creditor explains the importance of the safety features saying, "As a new parent myself, I know that parents want their teens to learn in a safe environment and learn how to be safe. Our behind-the-wheel training vehicles have upgraded safety features compared to average driving schools." Teens driving an SUV at home but learning on a car in class won't have the unique safety skills required to handle larger vehicles. Plus, today's young drivers are also dealing with new distractions such as cell phones, PDAs, iPods and navigation systems. The Drivers Ed Direct program focuses on how to safely use these devices and more fully prepares students for the road.
Drivers Ed Direct recognizes the importance of parents to the process and is the first driving school to give parents access to real-time internet status reports on their teen (available via the Internet or through email). The company's research includes the review of many studies, including an April 2003 California DMV study, showing how vital parental involvement is in successfully helping teenage drivers learn defensive driving skills. From this research and its experience, instructors provide parents on how to better train their teen during the required 50 hours of parent-taught behind-the-wheel training.
Features of the Drivers Ed Direct leading-edge training curriculum include:
The company's online curriculum is approved by the California Department of Motor Vehicles
The in-car curriculum exceeds DMV requirements and is up-to-date in teaching how to safely use new technology. For example, students are instructed to pull over when searching for information or making a cellular phone call.
More interesting and effective interactive computer course work replacing less helpful classroom training.
Behind-the-wheel SUV training, helping all students develop skills necessary to safely handle larger vehicles as well as cars
Information helping parents teach teenage drivers more effectively
All Drivers Ed Direct instructors complete a rigorous screening and testing process for the specially-developed curriculum, exceeding DMV requirements.
Vehicles are equipped with extra safety equipment such as side & head curtain airbags and vehicle stability control systems.
Offering door-to-door personalized training; instructors pick up students and drop them off at home, school or work.
Part of the company's dedication to safety includes a strong commitment to keeping a safe environment outside the vehicle. By exclusively using 2005 Toyota Prius and hybrid Ford Escape SUVs, gas-electric vehicles with near-zero emissions, students and instructors drive thousands of miles cleanly and efficiently. Drivers Ed Direct is committed to environmentally friendly driving instruction in several other ways, including:
Students don't travel to classes, resulting in less traffic on the road and less emissions in the Los Angeles atmosphere.
The online driving school is a paperless class--no workbooks to hand out, no sign in sheets, no quiz or test questions to distribute.
The company recycles paper, ink & toner cartridges and plastic products, as well as using recycled paper stock for most promotional materials.
Drivers Ed Direct also offers homestudy drivers ed, including DVD, workbook and CD-ROM learning programs, for new drivers in states such as Texas, Florida and Colorado, which will help fulfill all licensing requirements. In addition, drivers education students nationwide, and of any age, can learn the basics of driving in the comfort of their own home with the award winning Rules of the Road Interactive DVD.
Drivers Ed Direct (DriversEdDirect.com) is a California DMV licensed driving school (#4141) and its partner company, TrafficSchool.com, has been a CA DMV licensed classroom traffic school since 1994 (#1393) and has been offering internet-based online drivers education courses since 1998.
Contact:
Jimmy Leach – President
1-800-728-1048
###