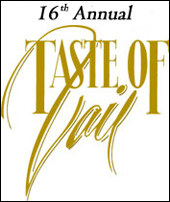 Enough said. Let's eat and drink.
Vail, CO (PRWEB) February 14, 2006
Fans of great food, great wine and great fun now can mark their 2006 calendars. Organizers of the annual Taste of Vail festival have released the dates of the nation's premier culinary and wine event for 2006: April 5-8.
Tickets are available online at http://www.tasteofvail.com.
"Come enjoy the greatest food and wine party of the year," says Paul Ferzacca, head chef and owner of La Tour restaurant in Vail and a member of the Taste of Vail's board of directors. "Enough said. Let's eat and drink."
Now in its 16th year, the Taste of Vail celebrates the Vail Valley's rich lifestyle — the fine dining, prestigious art galleries, shops and skiing that have made Vail a world-class, year-round resort. This year, more than 6,000 attendees and volunteers and 54 wineries are expected to participate, along with chefs from three dozen restaurants in the Vail Valley — home to more than 20 Wine Spectator award-winning restaurants, the most of any resort community in the United States.
Important dates and events of this year's festival include:
Wednesday, April 5 — The 2nd annual Colorado Lamb Cook-Off.
Thursday, April 6 — The Après-Ski Tasting, "Life Beyond Chardonnay, Cabernet & Merlot."
Thursday, April 6 — The Cigar Seminar, sponsored by Cigar Aficionado magazine.
Friday, April 7 — The annual Mountaintop Gourmet Picnic, on top of Vail Mountain.
Friday, April 7 — The Chocolate Seminar.
Friday, April 7 — The Cocktail "Mix-Off," sponsored by Wine Spectator magazine.
Saturday, April 8 — The Grand Tasting, Dance and Auction.
Guest chefs for 2006 include:
Another special guest at Taste of Vail this year is veteran fundraising auctioneer Tom DiNardo of DiNardo & Lord Auctioneers, who will work four charity wine auctions during the event.
"Taste of Vail is considered by many as the premier food and wine festival. It's in a class of its own," says DiNardo, who holds five world records for proceeds achieved at wine auctions. "Now we're going to take Taste of Vail to a whole new level."
Denver-based artist Anton Arkhipov's specially created painting, "Enchanted Journey," meanwhile, serves as the 2006 festival's official artwork.
"Anton is such a fun artist, because his paintings are all about food, wine and sommeliers," says Ferzacca.
Despite its stature among wine and culinary festivals and its reputation for haute cuisine, the Taste of Vail is a nonprofit organization. In the past 15 years, the festival has contributed more than $300,000 to Vail Valley Charities; and in 2005, in conjunction with Ritz-Carlton, the Taste of Vail donated $13,000 to the Hurricane Katrina relief fund.
Contact:
Stephen Lloyd Wood, media liaison
(970) 949-9774
# # #