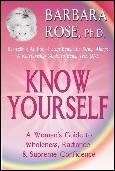 Know Yourself: A Woman's Guide to Wholeness, Radiance & Supreme Confidence
Fort Myers, FL (PRWEB) February 15, 2006
New Amazon.Com # 1 Personal Transformation Bestseller: "Know Yourself: A Woman's Guide to Wholeness, Radiance & Supreme Confidence" by Barbara Rose, Ph.D. is helping a lot of people.
Barbara Rose, Ph.D. has written another highly acclaimed bestselling book that is drawing tremendous attention from rave reviews and hitting # 1 in Self Help/Personal Transformation on Amazon.Com
"Know Yourself: A Woman's Guide to Wholeness, Radiance & Supreme Confidence" has become one of the most empowering bestsellers in self help/personal transformation on Amazon.Com since its release on January 10, 2006.
The authentically empowering information in "Know Yourself" will guide you to:
Know why you are in this life and what you are here to do
Learn how to live your life passionately
Uncover and eliminate feelings of being "less than" anyone else
Validate yourself rather than seeking validation from others
Own all parts of yourself and release self-criticism
Overcome negative messages you accepted as a child
Genuinely love yourself and become your own best friend
Release feelings of need in a relationship so you can relate confidently and authentically
Free yourself from emotional pain, confusion, worry, and attachment to outcomes
Activate wholeness, radiance, and supreme confidence in every area of your life.
When asked why she wrote "Know Yourself" Rose stated: "I lived my entire life with low self esteem, and tried everything to feel worthy by validating myself from the outside in. I never felt good enough until I went through a profound, life-changing inner transformation. I finally learned how to feel worthy, whole, radiant and supremely confident. As a result, I had to share how I did this with anyone who feels 'less than' through this book.
There is nothing more important to me than helping to uplift people's lives, because I know how difficult it was to live life feeling the exact opposite of genuine inner self worth and real confidence that nothing can ever take away."
When asked why she wrote this book for women and not also for men, Rose stated: "Deep in my heart, I did write this book for everyone, however, the only reason I geared it towards women was because I could not share what it feels like to be a male coming into wholeness during puberty, anymore than a male could genuinely share what a female feels coming into puberty. I truly feel that any male can read this book and receive tremendous benefit from it. I learned firsthand from women who have shared with me on my live tele-seminars that this book has also helped their husbands tremendously.
Nothing fills my heart with more joy than knowing my work is making a genuine positive difference in people's lives."
Based on reader's reviews on Amazon.Com
http://www.amazon.com/gp/product/0974145734/
this book is making a significant difference for both sexes by helping them to uncover why they do not feel whole, radiant and supremely confident as well as how to turn that around.
As stated by Barbara Rose, Ph.D.: "Anyone can turn around low self worth and learn how to truly feel genuine self-esteem, they just have to learn how. That is what 'Know Yourself' is all about. In addition, I give free live tele-seminars based on the messages in my book to help people personally.
During my tele-seminars, there is always a question and answer session when people can anonymously ask questions about what they are going through, and I share to help them release false negative messages and beliefs, as well as guide them as to how to come into their truth. Both this book and the tele-seminars are genuinely helping a lot of people worldwide, and that means the world to me."
To find out more about the free tele-seminars, log on to: http://www.borntoinspire.com/id7.html
Rose's new bestselling personal transformation book is available exclusively at Amazon.Com (ISBN: 0974145734) and through New Leaf Distributors.
# # #