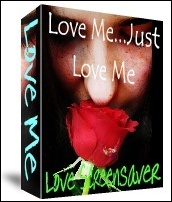 Love Me Just Love Me
Lexington, KY (PRWEB) February 13, 2006
With Valentine's Day just around the corner, according to some surveys, over $13 Billion was spent in 2005 and consumers are once again looking for quick and unique solutions to say I love you.
According to the creator of "Love Me Just Love Me" Multimedia Screensaver - Winfred Jennings -- "Deep down most people desire the expression of love but do not know how to reciprocate that love. Love Me...Just Love Me, uses the senses to show how we express love and understand the love of those closest to us. Whether it's a sweetheart, spouse, brother, sister, parent or friend they all will appreciate the expressions of love conveyed by this multimedia screensaver and greeting card in the form of a scroll."
For women It's about understanding who they are, not who you want them to be. It isn't about spending huge amounts of money to win her attention and affection, even though diamonds don't hurt. Still you can't go wrong with a thoughtful gift, but you certainly can go overboard and spend too much money and still not convey your love.
Mothers Day is considered a time to celebrate mothers, yet some women find Valentine's day a good time to do so. This provides women the opportunity to show appreciation for important women in their lives. Many of whom no longer have mothers, but have friends or mentors they wish to acknowledge.
For men who may grumble about Valentine's Day and feel a sense of obligation to celebrate, they can now be spontaneous and romantic. Instead of collecting that perfect card while paying for beer at the check out counter, they can now get it online.
They simply download a copy of the" Love Me... Just Love Me" poem and print it out on parchment or linen paper. They just sign, roll up and tie with a small red ribbon like a scroll. They can now present it with the screensaver and " Decree Their Love For Their Queens ! " For something even more authentic or rustic they just burn the edges slightly to give an aged look.
Special Resources Added For Brides To Be:
1. How to have the Wedding Of Their Dreams on a shoestring budget. This thoroughly researched, guide is full of cost-saving tips that will help brides paint a wedding that's nothing less than perfect. The 12 step method for planning a wedding has a detailed master plan to make sure wedding goes off without a hitch.
2. A copy of Wonderful Wedding Favors And Wedding Gifts. Every blushing bride wants to have a memorable and romantic wedding that will be remembered for years with pleasant memories by all that attend. Wonderful Wedding Favors helps to accomplish this, even if they are on a tight budget.
3. "Love Me...Just Love Me" Love Scroll a romantic poem and card which can be printed out and customized.
4. Scrapbooking Pro : Contains over 101 scrapbooking tips and tricks. Brides can capture and save memories to be cherished for a lifetime.
Although Valentine's Day only comes around once a year, the site http://www.touchwithlove.com is meant to be an expression of year round love. With Cupid becoming a fleeting memory by February 15th for some, the flame of love for family and friends will continue to burn bright for others. Thus there are several more projects in the works to feed the desire of consumers to say I love you each and everyday.
For additional information on Love Me Screensaver And Scroll, love tips and romantic ideas that are the subject of this release , please contact Winfred Jennings or visit http://www.touchwithlove.com For those wishing to pass the link on to friends and return to the website, the video can also be viewed in Google Video. http://video.google.com/videoplay?docid=-655348335760138333
Contact:
Winfred Jennings, Author
"Love Me...Just Love Me"
859-514-6697
# # #