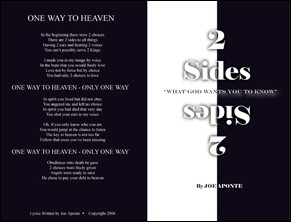 West Paterson, NJ (PRWEB) February 15, 2006
Globally, with all the wars that are happening today and the escalating violence amongst people; leaves us wondering about our country's security. The book titled "2 Sides" is a small but powerful book written by Joe Aponte that will definitely shake the hornets' nest and demand discussions from both secular and religious readers.
The author of 2 Sides, Joe Aponte, is a humble, shy and friendly individual who for years has disobeyed the living God out of fear of being ridiculed by others. However, fear is not a godly thing and he must obey the living God without fear of criticism.
Finally, after many years of stubbornness, personal suffering and Godly persuasion; he is now writing what God wants all readers to know. In this book Christian and non-Christian readers will get to know who God is and how to achieve spiritual consciousness of God; learning how things operate both in the physical and spiritual realm! Additionally, it contains many answers to deep spiritual matters that readers are hungering for and need to know. It will definitely bring insight as to what is happening today around the world, and the condition of the national economy. God also has a message for all the nations of the world and all readers are going to want to read this!
With the Middle East heating up with growing violence and the threat of nuclear confrontation, it is important for readers to know what is spiritually happening in their world. This is an opportunity for readers to get a good look as to who God is, and how to truly communicate with him.
This book is being published by Joe Aponte and could be ordered by contacting Nadia Aponte at (973) 930-2188 prior to the 3/2006 publishing release. It has a purchase price of $9.95 plus shipping and handling. 2 Sides was copyrighted 2006 and is to published 3/2006. The book was registered in the Bowker's Books In Print Database. Readers can reference ISBN 0-9778220-0-1 when looking it up in their local book stores.
# # #