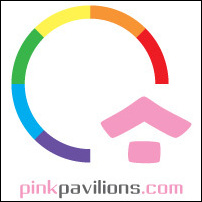 Although many gay travel web sites already list top gay destinations, most of their lists are put together by a marketing team, based primarily on advertisers' needs and not on travelers' input. We wanted to find out which destinations single GLBT travelers would suggest to others - from big metro areas to unknown towns around the world. It is all about the travelers' own experience
St Petersburg, FL (PRWEB) February 14, 2006
PinkPavilions.com, a new gay travel web site specialized in gay friendly vacation rentals by owner , has launched a quest to identify what gays and lesbians singles recommend as the hottest travel destinations around the world, in its gay travel blog.
"Although many gay travel web sites already list top gay destinations, most of their lists are put together by a marketing team, based primarily on advertisers' needs and not on travelers' input. We wanted to find out which destinations single GLBT travelers would suggest to others - from big metro areas to unknown towns around the world. It is all about the travelers' own experience", said Michele Durst, web application developer and co-founder of PinkPavilions.com.
PinkPavilions.com is a lesbian owned and operated business, founded by Durst and partner Liz Spadaro, in collaboration with Patu Tifinger and Deia Farrell, owners of Mediamix Design & Publishing Inc., a web development company. It was created to provide a full-fledged gay friendly, community-oriented travel web site. While many gay travel sites promote hot destination lists which focus mostly on single gay men, Pink Pavilions is aware that single lesbian women, of all ages, are searching for hot destinations to visit, as well. Pink Pavilions recognizes that gay, lesbian, bisexual and transgender travelers are unique individuals with unique travel needs, and is inviting all gays, lesbians, bisexuals and transgender people to contribute by writing a quick entry in the "Sizzling Destinations" section of its gay travel blog.
While Pink Pavilions will use travelers' recommendations to build a list of hot GLBT destinations that really reflects travelers' personal experiences to help promote its gay friendly vacation rentals worldwide, readers will certainly enjoy (and benefit from) reading fellow GLBT recommendations.
To recommend, read about or comment on a hot destination, please visit Pink Pavilions GLBT travel blog. To learn more about PinkPavilions.com, please visit the company's web site at http://www.pinkpavilions.com
About the company:
PinkPavilions.com is a premier gay and lesbian friendly vacation rentals by owner web site, and is a 100% lesbian owned business.
# # #