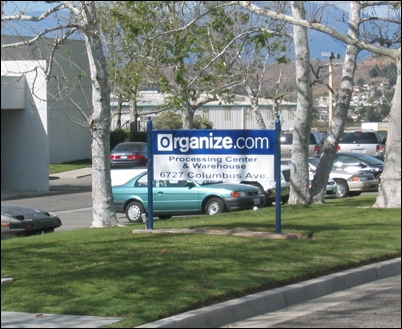 Our new name clearly reflects that and will be much easier for our customers to remember.
Riverside, CA (PRWEB) February 15, 2006
Riverside, CA February 15, 2006 -- Retailer Organize Everything, a leading ecommerce provider of home storage and organization consumer products, today announced that it has completed its acquisition of the domain name Organize.com. Organize Everything paid an undisclosed amount for the acquired domain.
As a result of this acquisition, Organize Everything has changed its corporate name to Organize.com, Inc. The formal name change will take place immediately with the expected transition process completed by March 31, 2006. The name change is a strategic move designed to clearly align the company with its branded line of business: offering one convenient place to shop online for storage and organization solutions for homes, offices and businesses.
"Acquiring Organize.com is an exciting step toward increasing our market penetration. We felt the name Organize.com was a perfect fit for our future growth plans. The name has been under-utilized for ecommerce which we can now unlock to reach its full potential. This name will offer us a tremendous branding opportunity," stated Terry Shearer, President of Organize.com."
According to Kevin Watts, Director of E-Commerce, the name change also reflects one of the main company philosophies: To make your life simpler and more organized. "Our new name clearly reflects that and will be much easier for our customers to remember."
Under the new name, Organize.com will maintain their commitment to continually update and improve their product selection, services and the website functionality. In addition they plan to add many new features geared towards helping people with their storage and organizational challenges.
About Organize Everything
Organize Everything / Organize.com is a leading online retailer of home storage and organizational products. Founded in 1998, the company operates a retail store in Riverside, California and five websites from their 42,000 square foot Internet Processing Center also in Riverside. The web resource magazine Internet Retailer lists Organize Everything in their most recent edition of Top 400 Retail Websites. Sales estimates for 2006 are expected to exceed $10,000,000.
###