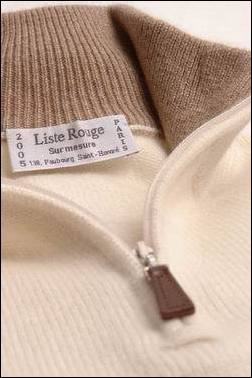 Soon, a new generation of discerning men will know the fit and flair of fine custom French tailoring…
New York, NY (PRWEB) February 16, 2006
Already known for its guaranteed perfect fit, Liste Rouge – Paris enhances the tailoring experience by adding a new feature to its unique creations: the custom-made cashmere sweater.
Exclusively at Liste Rouge – Paris, it is now possible to appreciate the supreme luxury of creating custom-made cashmere sweaters. Knit from the purest yarns and available in a rich selection of colors and designs, this season's new essential confers instant style and elegance.
Discover Liste Rouge Cashmere online at: http://www.listerouge-paris.com
or by visiting our New York showroom. Pictures are available upon request.
→ Custom-made Cashmere sweaters for men from $490 to $740
→ Delivery in 6 to 7 weeks all around the world
→ Private appointments at the New York showroom from 10 am to 7 pm
About Liste Rouge - Paris:
In 1938, a Normandy shopkeeper had the idea to create a custom-tailored shirt business after hearing from his customers time and again how dissatisfied they were with their ready-to-wear shirts, and Liste Rouge was born. Today, the company welcomes customers from all over the world at its Paris flagship store located in the hearth of the most upscale Fashion District, 138 rue du Faubourg Saint-Honore.
Liste Rouge, named after an exclusive and private French directory, the famed "Red List", is known for its fine-quality craftsmanship and exemplary customer service.
Liste Rouge custom men's shirts are renowned throughout Europe. Its fabrics are carefully selected from the finest European weavers in Switzerland, England, Italy and France.
In 2003, four years after opening a showroom in Tokyo, Liste Rouge successfully opened an office in New York (located in Wall Street). At the same time, Liste Rouge launched a website targeting the North American market: http://www.listerouge-paris.com. The Liste Rouge website has been designed with specific directions and detailed photos making it easy and convenient to compose custom shirts online, upholding its reputation for being dedicated to outstanding quality and service.
To truly experience the luxurious textures and diverse patterns available, Liste Rouge encourages its customers to ask for a copy of the Exclusive catalogue, featuring a selection of over 200 fine fabrics swatches. American businessmen have purchased Liste Rouge shirts for years at the Paris store. They are now able to customize their own shirts 24/7 online.
In order to effectively meet its clientele requests, Liste Rouge opened a New York showroom in 2004 to welcome its customers for private appointments and measuring.
"Soon, a new generation of discerning men will know the fit and flair of fine custom French tailoring…" Nicolas Santi-Weil, Director North America.
Liste Rouge - Paris has been meeting the refined tastes and unique requests of the world's well-dressed men for over 65 years.
# # #