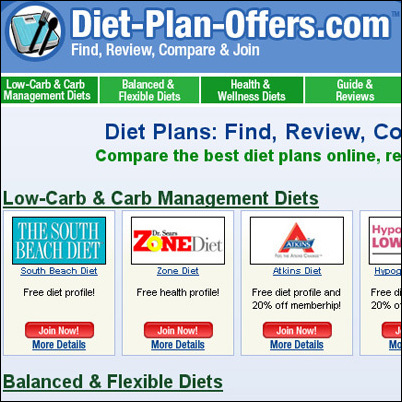 Austin, TX (PRWEB) February 16, 2006
With numerous diet plans to choose from, selecting the right one can be a tough decision. Diet-Plan-Offers.com has compiled detailed information about numerous diet plans and allows visitors to compare diet plans side-by-side. Information gathered includes the type of diet plan (low-carb and carb management, balanced and flexible, and health and wellness), benefits, costs, available discounts and special offers, and more. The diet plans on Diet-Plan-Offers.com include Dr Barry Sears Zone Diet, Dr Atkin's Diet Plan, the Maker Diet by Jordan Rubin, and others. Diet plans for both weight loss and health management (such as the Diabetes Diet and Hypoglycemia Diet) are included.
The information compiled about each diet plan by Diet-Plan-Offers allows visitors to perform a diet plan comparison on a number of criteria. The introductory offer, which ranges from free months to free food, can be compared for each site. Visitors can also review and compare the requirements to join for free, such as filling out a 1-page diet profile. Free items available with online registration for the diet plan, such as newsletters, are also noted and compared. "I wanted to compare South Beach vs Atkins Diet," said dieter Amanda Larson, "This site allowed me to compare and figure out which plan was more likely to help me meet my weight loss goals."
The extensive guide and reviews section of Diet-Plan-Offers.com contains detailed diet plan reviews and a number of informative articles that will help visitors choose diet plans that will work for them. Featured reviews include a Review of South Beach Diet, Review of Zone Diet, and various Atkins Diet Reviews. Each review gives detailed information about the diet plan, including how the diet plan works, health benefits of the plan, and possible dangers of the diet plan. Diet-Plan-Offers.com delves further into dieting topics than other diet plan comparison sites and attempts to answer the questions that really matter to its visitors.
Visit Diet-Plan-Offers.com to find and compare all the most popular diet plans.
About Diet-Plan-Offers.com:
Diet-Plan-Offers.com was developed by a group of dieters that was completely confused about which diets were safe, which worked, and which were the best all-around. The site creates one, centralized location where dieters can view the best and most popular diet plans, get full details about each plan, and read informative reviews and articles to help them select the right diet plan and lose weight.
###