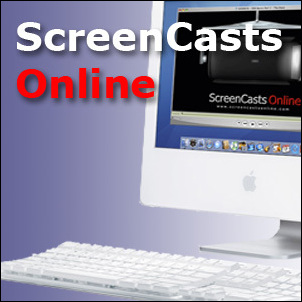 UK (PRWEB) February 17, 2006
ScreenCastsOnline, the premier mac video podcast, today announced the launch of a new web site - http://www.screencastsonline.com - to supplement its weekly video podcast tutorials. The new web site has been developed as a free training resource for inexperienced viewers new to the podcasting world, the tech savvy viewer and all skill levels in between. By providing a valuable source of information to supplement the weekly video podcast tutorials, the web site will enable viewers to gain the skills and confidence required to help them get the most out of their mac.
The web site also provides the capability to not only download the video podcasts directly from the ScreenCastsOnline web site, but also to allow viewers to play them in real time using a standard web browser on their computer. What's even better is that viewers can subscribe to ScreenCastsOnline in the iTunes Music store and have newly published tutorials delivered to their desktop computer and even their iPod automatically, as soon as they are available. Full instructions on how to subscribe to podcasts using the iTunes Music Store and how to download them automatically to an iPod are included on the site in easy to read form and screenshots.
The video podcasts (or screencasts) are primarily aimed at the growing numbers of Apple Mac computer users and take the form of short 10-20 minute video tutorials covering a wide range of topics for all skill levels. These topics include such things as learning how to use the Mac operating system, how to set up your own Podcast, how to create a Web Site, how to use various applications and web services and many, many more subjects. To date, over 40 video podcast tutorials have been made available for free download and a new video podcast tutorial is published each week. The videos are specially formatted to play on both the Mac and PC platforms and can also be downloaded to Apples latest video iPod for training on the go.
About ScreenCastsOnline
ScreenCastsOnline has grown to become one of the leading video podcasts delivering over half a million downloads of its unique free video podcasts via iTunes in it's first six months.
The show is the brainchild of its host and producer - Don McAllister. Based out of the UK, Don brings a unique slant (and a unique accent) into the predominately US based Mac community. Due to the nature of podcasting, ScreenCastsOnline has a global audience with subscribers from every continent and as far afield as Antarctica, Paraguay, Madagascar and Japan to name but a few.
Since the launch of podcasting support in iTunes, ScreenCastsOnline has consistently been in the top 25 technology podcasts and in the top 100 podcasts lists on iTunes. At the time of writing, ScreenCastsOnline is currently featured on the iTunes Music Store podcast directory in no less than 3 separate sections - the Technology, Education and Video podcasts section. The show has been mentioned on many prominent podcasts (The M Show, The Maccast, Podcast 411, The Podcast Brothers, Typical PC User Podcast) and has also been featured on several popular mac related webs sites (Ars Technica, MacDailyNews and TUAM).
As well as the free versions of the tutorials, ScreenCastsOnline was the first video podcast to produce its weekly podcast in beautiful high definition format - 1280 x 720 - for high resolution full screen playback. The high definition version is also delivered as a podcast but only to those subscribers making an optional donation to the site, either $2 per month or $20 for an annual donation. More information on accessing the high definition version is available on the ScreenCastsOnline web site.
February 2006 is Podcast Month at PRWeb. This press release distributed by PRWeb, the Online Visibility Company.
# # #