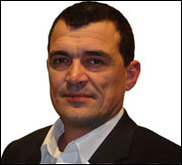 You don't have to spend a fortune promoting your business for a keyword like 'data recovery los angeles' for which you have to pay around thirty dollars per visitor on Adwords. We are really tired of this expensive way online networks charge their customers. ImportantAds would charge you around seven to ten cents per targeted visitor we send you
London,UK (PRWEB) February 16, 2006
For Christos Margetis, the spin on online advertising makes his blood boil. And this from a man who decided to stop paying insane amounts of money on pay per click advertising, having already achieved to place his other eighteen months previous business as the most popular small scale search engine in the world, according to Alexa rankings.
Christos Margetis launched his new internet advertising network on the 8th of February, in order to give advertisers and publishers a more efficient way doing business online, fighting expensive pay per click advertising, click fraud and insecure online transactions.
"You don't have to spend a fortune promoting your business for a keyword like 'data recovery los angeles' for which you have to pay around thirty dollars per visitor on Adwords. We are really tired of this expensive way online networks charge their customers. ImportantAds would charge you around seven to ten cents per targeted visitor we send you," Margetis mentioned.
"We believe that today, several pay per click advertising networks:
are extremely expensive becoming not affordable for the medium and small enterprises.
have poor reporting without honest explanation on how and where advertisers' hard earned budget is spent.
have bad attitude for the small publishers because they don't let them grow.
not offering multimedia options for the advertisers to approach new customers.
do not let publishers place similar ads on the same page. Like this publishers loose income."
mentioned again Christos Margetis.
As of June 2005, advertisers had spent $5.8 billion to place ads online, a 26 percent increase compared with the first six months of 2004, according to a new report from news.com. Online ads that incorporate streaming video or audio accounted for just 8 percent of online ad revenue in the first half of the year but are among the fastest-growing segments. Spending on these "rich media" ads grew 26 percent, the report noted.
How advertisers and publishers will benefit from ImportantAds:
1. Buy & sell text ads on their site's topic area and in any geographical area they wish. Internet goes local, we too.
2. Simply, there are no limits on what media content we can offer to our customers. Text ads, banner ads, dynamically generated flash ads on demand, rss/xml feeds and pretty soon podcasts, audio and video.
3. Powerful, scalable internet advertising network offering more than five hundred million pageviews per day. All based on a quite effective qualified lead generation system.
4. Very powerful reporting system where advertisers and publishers can monitor their click-through rates (CTR), return on investment and network distribution of their ads. They have complete control of where and how appear their ads as also monitor which network ads produce more revenue (most advertising agencies don't want you to know this).
5. Pretty soon they can split test their ads so they know which of them perform better so they can remove the ones not performing.
6. ImportantAds accept multilingual ad content for localized distribution. We will also support Asian languages content.
7. We accept and respect small publishers and advertisers giving them a 24/7 state of the art technical support team.
8. They host their ads at our Rackspace's data center, probably the best hosting provider worldwide. In addition, they are secured by Verisign whose software helps prevent identity and credit card theft on the Internet.
9. Blog and forums give the possibility to advertisers and publishers communicate among them, so that they can achieve the best results from their campaigns as also receive tips and advice from ImportantAds.com
10. Last but not least we are accredited by Dun & Bradstreet as a legitimate business online and entity in total.
Christos Margetis studies the effects of multimedia online advertising and publishes his results in a free monthly electronic magazine entitled, "Multimedia online advertising."
At ImportantAds.com you can write powerful ads online, in your own words, using breakthrough technology that guide you and make every ad special and unique by adding text and pretty soon complete multimedia, podcasts, RSS/XML, audio and video. Click on the following link to see a sample video ad created in our media kit.
We also offer a 7 -part e-course on effective online advertising and search engine optimization that will skyrocket your internet marketing business.
Arrange an interview with Christos Margetis by calling his direct line at or Email at christos AT importantads.com protected from spam bots.
Other helpful information regarding this service can be found at: http://www.ImportantAds.com
For More Information Contact:
Christos Margetis
# # #