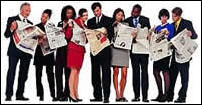 New York, NY (PRWEB) February 21, 2006
Wall Street Network, LLC which launched its newest public relations service, "Guaranteed Publicity!", late last week, got off to a great start. In its debut launch, the new service reached thousands of media targets. "Guaranteed Publicity!," Wall Street Network, LLC's fourth important service development, is a new division within the company's original performance-based investor relation service that originally targets analyst coverage and institutional enhancement for Community Banks.
Addressing all industries, the company has now developed an effective placement system regarding powerfully written articles about clients' companies or products in newspapers and magazines across the United States. The articles are distributed to certain news media hubs targeted within their budget reflecting the circulation cost of those publications, which is outlined on the company's website.
Companies large, small and government agencies can use this innovative public relations service to stay competitive for news media placement. To make the service even more attractive, our unbeatable rates are discounted by 40% for resulting articles of what traditional public relations firms would charge. In fact, rates start at just $295 for an article placement, which puts our clients in another unique position to work with us.
Ahead of the class
Performance-based Investor Relations was the first service developed in our company's history that landed Wall Street Network the company reputation as Wall Street's "Invisible Hand" by Crain's New York Business in May 2001; regarding performance success with previous client, Sterling Bancorp (NYSE: STL).
About Wall Street Network, LLC
Wall Street Network, LLC (WSN) is an intelligent marketing, news distribution and investor relation service firm that offers cost effective niche programs and public relations to capture the attention of Wall Street professionals regarding sell-side industry analyst, institutional investors, individual investors and the news media. Dedicated services consist of guaranteed publicity, optimized press release blasting, company marketing blast, performance-based investor relations and venture capital / IPO programs. Information on the firm, as well as a service details and newsletter sign up can be accessed through our website: http://www.wallstreet-network.net or by calling (800) 289-9574.
Wall Street Network, LLC (WSN)
111 East 14th Street, PMB# 278, New York, NY 10003
Contact: Charles Lee, President, (201) 941-6027
URL: http://www.wallstreet-network.net
# # #