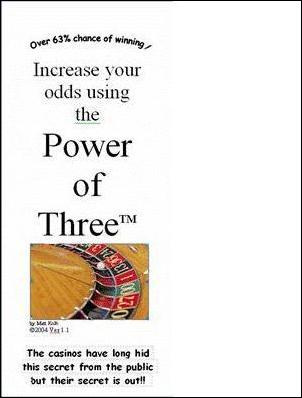 My average bet is larger than the cost of this booklet!
Camarillo, CA (PRWEB) February 22, 2006
In just a few pages, the reader can quickly grasp the concept of The Power of Three. Readers will get a basic outline of the game of Roulette along with a simple explanation of the easy to understand system. One reader could only say "Wow!"
Not intended for the online or electronic roulette players as the reader will understand how those forms don't give the player a fighting chance. This booklet was written for the enjoyment of those who wish to experience the hands on excitement of roulette at the table. Other valuable information and links are available at the company's website including links to all major casinos in Las Vegas, Reno and Atlantic City.
Now available for immediate download at http://www.thepwrof3.com the reader can obtain this booklet for a very nominal cost. "It costs less than a dinner at my local restaurant" says one satisfied customer. "Less than a Mercedes, but if used successfully, the reader could buy a Mercedes!" says another. Bill K. says, "My average bet is larger than the cost of this booklet!"
-The secrets to winning at roulette that casinos do not want you to know
-If you can divide by three up to 36, you can harness the Power of Three
-It may be so simple that the casinos stop offering roulette as a game where they are the only one's that win...
After sitting on this secret for over four years, the founder of MWK Enterprises, Matt Kolb can no longer contain it. Now it's available to everyone.
# # #