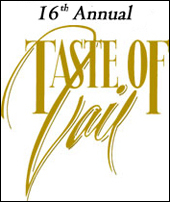 fresh, local ingredients and simple flavor combinations, bright, balanced preparations.
Vail, CO (PRWEB) February 22, 2006
A trio of nationally acclaimed chefs will be spending some quality time in the Colorado High Country this spring.
Organizers of the 16th annual Taste of Vail culinary and wine festival, to be held April 5-8, announce they've agreed to host not one, not two but three guest chefs this year. They are:
Rick Moonen of rm restaurant at the Mandalay Bay Casino & Resort in Las Vegas; Martial Noguier of one sixtyblue in Chicago; and Jennifer Jasinski of Rioja in Denver.
"This is a totally new experience. I jumped at the opportunity just to be part of it, I'm thrilled," says Moonen, dubbed "King of the Sea" by the New York Times. "I'm from the East Coast, so for me to be able to come out west and be part of what's going on out here is a great opportunity."
Besides being on hand as honored guests during some of the Taste of Vail's many events, the guest chefs will be serving up their own specialties at three Chefs' Showcase Dinners — each hosted by a local executive chef and joined by three other local chefs from restaurants throughout the Vail Valley. Each of these five-course, five-chef gourmet dinners also is paired with special selections from some of the nearly three dozen participating wineries; the dinners are followed by live auctions featuring rare bottles from the wineries.
Chef Thomas Newsted of the Game Creek Restaurant, on Vail Mountain, hosts Moonen on Wednesday, April 5; guests can begin boarding the Eagle-Bahn Gondola in Lionshead at 5 p.m.
On Thursday, April 6, at 7 p.m., Adam Roustom, executive chef of the Sonnenalp Resort of Vail, hosts Noguier, a product of the prestigious Ecole Superieure de Cuisine Francaise in Paris.
"It's always good to travel, to promote the restaurant — whether it's to New York, or Las Vegas, or Vail," says Noguier, who has been lauded by food critics for his "gutsy cooking" prepared within "a symphony of simplicity."
Then, on Friday, April 7, at 7 p.m., Chef Richard McCreadie of the Ritz-Carlton, Bachelor Gulch, hosts Jasinski, named 2004 Colorado Chef of the Year and 2005 Western Regional Chef of the Year by the American Culinary Federation.
"It is always great to be chosen as a part of such a fun event in such a great venue," says Jasinski, known for using "fresh, local ingredients and simple flavor combinations, bright, balanced preparations."
Each of the guest chefs also will host a morning cooking seminar at the Vail Marriott Mountain Resort & Spa, in Lionshead. For details, visit http://www.tasteofvail.com.
This year, as many as 5,000 attendees and volunteers and 58 wineries are expected to participate in the 16th Taste of Vail. The festival's Chefs' Showcase Dinners — $125 per person — are not included with the Taste of Vail's regular Festival Pass; the cooking seminars, however, are included in the Festival Pass, or they can be purchased separately for $35. Tickets are on sale at http://www.tasteofvail.com.
The Taste of Vail was created in 1990 by a group of Vail Valley restaurateurs as a marketing event to showcase the resort's world-class restaurants. Now the internationally famous community boasts more than 20 Wine Spectator award-winning restaurants — the most of any resort community in the United States.
Despite its stature among wine and culinary festivals and its reputation for haute cuisine, the festival is a nonprofit organization. In the past 15 years, the festival has contributed more than $300,000 to Vail Valley Charities; and in 2005, in conjunction with Ritz-Carlton, the Taste of Vail donated $13,000 to the Hurricane Katrina relief fund.
For more information, visit http://www.tasteofvail.com or contact Media Liaison Stephen Lloyd Wood at 970-949-9774 or 970-926-5640 (fax).
# # #