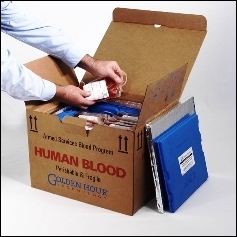 U.S. Army Greatest Invention
Minneapolis, MN (PRWEB) February 24, 2006
America's Blood Centers (ABC) and Minnesota Thermal Science, LLC have announced a partnership agreement to enable ABC members to use Golden Hour Technology as the preferred method for shipping blood and blood products.
Compared to existing shipping methods, the main benefits of the new insulated shipping containers is their ability to maintain the temperature of transported blood products within the range specified by FDA guidelines, even in harsh environments, and over longer periods of time. It is expected that blood product losses due to containers failing to maintain required temperatures during transit will be virtually eliminated.
The technology completely does away with using wet or dry ice which is inconvenient to use and is not perfectly matched with the various required blood temperatures.
The new containers are reusable, very simple to use, and offer many cost advantages. For example, blood shipments may be scheduled for two day delivery instead of express service. For frozen shipments there is no dry ice used, and therefore no hazardous materials restrictions. There is also less training and labor costs associated with the containers.
Unlike current methods for shipping blood, the new container technology functions well in either hot or cold environments. MTS validates its containers to perform for 48 to 72 hours within the range of 40°C (104°F) to -20°C (-8°F).
The agreement will allow ABC members to order three different containers initially, with several more available next year. The "Golden Hour" product line covers three different temperature ranges, to hold chilled and frozen blood, and for blood platelets that are held at room temperature. A super-frozen minus 50°C (-58°F) container will follow later this year.
"ABC is pleased to announce its partnership agreement with Minnesota Thermal Science," said ABC Chief Business Officer Susan K. Claffey. "Our members will have access to an improved method of shipping blood products which will reduce losses of these highly perishable, lifesaving products from the failure to maintain an appropriate temperature range during transport."
The new line of shipping containers to be used by ABC members is currently in use by the U.S. Armed Services Blood Program who are using it to replace its Vietnam era "Collins Box", which like other containers used throughout the blood industry are not able to withstand harsh temperature conditions during transit.
Founded in 1962, America's Blood Centers is North America's largest network of community-based blood programs. Seventy-seven blood centers operate more than 600 collection sites in 45 U.S. states and Canada, providing half of the United States, and all of Canada's volunteer donor blood supply. These blood centers serve more than 180 million people and provide blood products and services to more than 4,200 hospitals and health care facilities across North America. ABC's U.S. members are licensed and regulated by the U.S. Food & Drug Administration. Canadian members are regulated by Health Canada.
Minnesota Thermal Science develops unique storage and shipping systems that maintain constant and predictable temperatures when transporting perishable medical materials. Its branded "Golden Hour Technology" received an "U.S. Army Greatest Invention" award in 2004 for its original medic pack, developed with the Walter Reed Army Institute of Research in order to allow medics to bring blood into forward areas. The name "Golden Hour" refers to the initial period following injury, when 85% of deaths typically occur.
Please contact George Flora, President, Minnesota Thermal Science, LLC at 763-412-4811 for more information.
# # #