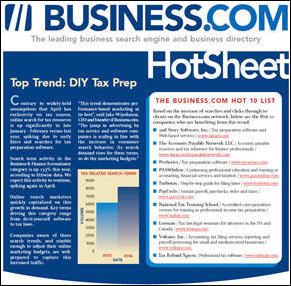 This trend demonstrates performance-based marketing at its best
Santa Monica, CA (PRWEB) February 23, 2006
Contrary to widely-held assumptions that April has exclusivity on tax season, online search for tax resources is up significantly in late January - February versus last year, spiking due to early filers and searches for tax preparation software. Search term activity in the Business & Finance Accountancy category is up 133% this year, according to Hitwise data. We expect this activity to continue, spiking again in April.
Online search marketers quickly capitalized on this growth in demand. Key terms driving this category range from do-it-yourself software to tax laws.
Companies aware of these search trends, and nimble enough to adjust their online marketing budgets, are well-prepared to capture this increased traffic.
"This trend demonstrates performance-based marketing at its best," said Jake Winebaum, CEO and founder of Business.com. "The jump in advertising by tax service and software companies is scaling in line with the increase in consumer search behavior. As search demand rises for these terms, so do the marketing budgets."
# # #