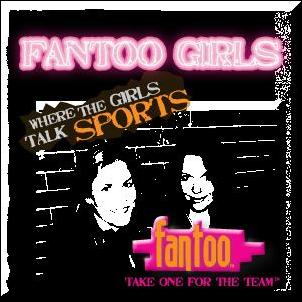 Podcasting, the latest in personalized technology, allows people to not only customize their music selection but also their talk radio preferences
Franklin Park, NJ (PRWEB) February 27, 2006
With a unique twist in sports programming, Fantoo, a media and apparel brand created for the female sports fan, has recently launched their podcast, Fantoo Girls – Where The Girls Talk Sports (RSS Feed: http://www.fantoo.com/podcast/podcast.xml) to offer an alternative to traditional sports programming. It is the first national sports talk podcast hosted by women fans.
To date, hosts Carol Doroba and Robin McConaughy, the founders of Fantoo, have secured interviews with Randy Moss, Bill Walton and Harold Reynolds, and, with themes like "The Girls Go Deep with Randy Moss" and "Gloved and Loaded" and features like "Beer of the Week", continue to book athletes and celebrities due to the novel nature of their podcast content. Upcoming guests include Walt Smith, Pit Crew Coach for Dale Earnhardt Incorporated, and 2003 Daytona 500 winner Michael Waltrip. With podcasts that are entertaining and still focused on sports content Fantoo has also managed to draw a large male audience to their weekly segments.
"Podcasting, the latest in personalized technology, allows people to not only customize their music selection but also their talk radio preferences," says Carol Doroba, Head Coach of Fantoo. "Once downloaded, a podcast is easy, portable and can be accessed anywhere, anytime and can be listened to over and over."
Through their podcasts, Fantoo seeks to become the voice of the female sports fan by offering entertainment, opinion and general information in a format with which the female fan will connect. Unique television, satellite radio and interactive web programming will each play a role in Fantoo's range of services. Fantoo is currently working with these outlets to provide sports coverage, education and entertainment in an accessible and casual way that will resonate with women while also piquing the interest of men.
In addition their weekly podcasts, Fantoo launched its initial line of ultra-soft jersey tees last Fall. The apparel consists of ultra-soft cotton jersey t-shirts and ribbed tanks in custom colors. The shirts are adorned with subtle graphics and phrases such as "Nice Catch," "Donuts are Sweet" and "Unsportsmanlike Conduct" from sports including football, auto racing, and baseball. The silhouettes are intended to flatter a woman's figure and blend with her current wardrobe. Building on the success of the line and brand, Fantoo is releasing their second apparel offering, which will include unique and playful crystal designs as well as a line of thermal hoodies with a discharge screening graphic application that have one-liners from sport such as 'swapping paint...has nothing to do with decorating'.
Fantoo's apparel is sold on the company's website, http://www.fantoo.com, as well as at select boutiques and sporting apparel stores. Prices start at $32.
Carol Doroba and Robin McConaughy founded Fantoo in 2004 in response to the lack of stylish and flattering apparel for women who love sports. The commitment to create a lifestyle brand developed when, upon further research, they learned that the female sports community is 70 million and growing. Working through its various channels, including their podcast and major media partnerships, Fantoo strives to become the "go-to" brand for the woman who loves sports. The headquarters of Fantoo are in Franklin Park, New Jersey. For more information about Fantoo, go to http://www.fantoo.com. To listen to their podcast, subscribe to Fantoo Girls via iTunes or use this URL for their RSS feed: http://www.fantoo.com/podcast/podcast.xml
February 2006 is Podcast Month at PRWeb. This press release distributed by PRWeb, the Online Visibility Company.
# # #