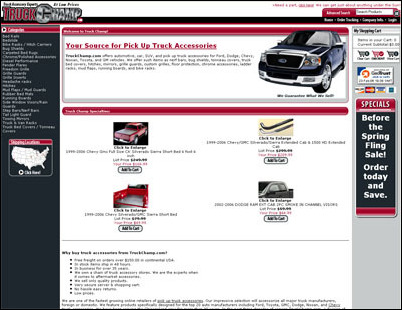 Our full-time staff constantly updates the site with the latest specials and new products
Elkhart, IN (PRWEB) February 27, 2006
TruckChamp.com is in it for the long haul! Having served the greater Chicagoland area for well over 30 years, this innovative company is firmly established in the world of aftermarket pick up truck accessories and automotive parts. Now, with its newly redesigned, customer-friendly website, TruckChamp.com is poised to extend its commercial reach even further. Customers can expect the same superior value, family atmosphere, and excellent service, with the added benefit of an easy-access online storefront. "Our full-time staff constantly updates the site with the latest specials and new products," said co-owner Lou Kovach. "Personal assistance is just a phone call away for anyone seeking that direct communication."
The newly renovated TruckChamp.com site has everything customers need to make their trucks go faster and perform better, looking sharp all the while. Whether the goal is to make vehicles more functional, more attractive, or both, it's effortless and affordable at TruckChamp.com. Today's savvy customer realizes that aftermarket pick up truck accessories are the best way to augment appearance while increasing resale value. Some parts even reduce operational expenses, such as the truck tonneau cover, which increases gas mileage by reducing tailgate drag.
Because the company buys in bulk from wholesalers, TruckChamp.com passes the savings on to the customer. "Our years in the business have meant building strong relationships with manufacturers who are industry leaders that have earned their reputation for excellence, often with more than 30 years experience," said co-owner Doug Pientok. "Our history with these manufacturers has taught us which ones to buy from, which to avoid, and who can offer the best quality product at the most reasonable price."
TruckChamp.com carries the most cost-effective, unique and stylish accessories to accent and personalize any car, truck or SUV, no matter what the make or model: Toyota, Chevy, Nissan, Ford, Lincoln, and GMC are all fully represented. Whether customers need a Nissan custom grille or a Chevy truck tonneau cover, they'll find it at TruckChamp.com, along with a comprehensive selection of truck step bars, nurf bars, billet grills, hitch bike racks, window visors, truck bed rails, grill and brush guards, tube steps, truck hitches, bug shields, hood protectors, universal fender flares, hitch mounted cargo carriers and cargo nets. See firsthand why they're known as "the Cadillac of trucking accessories." Visit TruckChamp.com today.
# # #