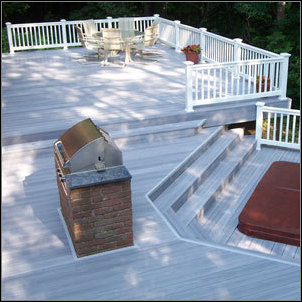 Quadra decking looks and feels like natural wood, but is made from 100% recycled vinyl
Vancouver, B.C. (PRWEB) February 24, 2006
Just in time for spring construction, a new lifetime warranted "vinyl wood" decking is here for environmentally minded builders, BuildDirect announced today.
"Quadra decking looks and feels like natural wood, but is made from 100% recycled vinyl," said BuildDirect Decking Manager Glen Bonderud. "This remarkable all-weather material won't warp, crack or rot, and is impervious to termites and other insects. It's also an ideal material for a family deck, safe for children and pets because it has no splinters or rough edges."
Added Bonderud: "If you're at the beach, Quadra is also a great material for docks. Its enhanced surface texture provides slip resistance in wetness."
Quadra's fully transferable lifetime warranty reflects its state-of-the-art extrusion processing for exceptionally strong, rigid planks. And each board is protected against fading from UV radiation to preserve its rich color for the long term. Combining the beauty of wood with the low maintenance of vinyl, Quadra decking is an economical investment returning years of enjoyment and cost savings.
Quadra decking installs easily with a hidden fastener system for a professional-looking installation with even spacing. Accessories include anchor biscuit, clamps, starter board, fascia and finishing trim.
Manufactured in the USA, Quadra brand vinyl decking is available exclusively though BuildDirect, the world's leading online wholesaler of building materials.
See http://www.BuildDirect.com
For more information on Quadra vinyl decking:
Toll-free phone: 1-877-631-2845
# # #