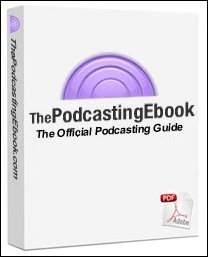 The Definitive Guide To Voice-Over Success
Toronto (PRWEB) February 24, 2006
ThePodcastingEbook (http://www.thepodcastingebook.com/), the heralded resource for aspiring podcasters, has received rave reviews from podcasting aficionados and gurus around the globe. Everyone benefits, from individuals new to the concept of podcasting to seasoned podcasters who want to grow their podcast into a viable business.
Major corporations from North America and Europe have acknowledged the podcasting Ebook as the foremost educational tool for getting a podcast up and running in less time than it takes to kickstart a traditional marketing campaign -- and significantly increases their reach in their respective marketplaces with a competitive edge over other industry players.
Respected podcast critic from the United Kingdom, Colin Meeks of Podcast Launchpad (http://www.podcastlaunchpad.com), observed the following:
"ThePodcastingEbook.com is 93 page electronic book available in Adobe PDF format, that introduces you to podcasting, with more emphasis on creating podcasts and generating income from them.
Each chapter is very well presented and includes a breakdown of what the chapter includes. The early chapters in the book include numerous screenshots of websites and applications covered ... you have to say this book in a winner ...exceptional value for money. Star Rating: 9 out of 10"
Author of ThePodcastingEbook Stephanie Ciccarelli says, "Developing and marketing the ebook has been a very satisfying journey for our team. Every day, we get to meet interesting podcasters and share in their success stories. Our customers are all very bright, focused, and are an inspiration to the people who they touch through their podcasts."
For more information, listen to a podcast about ThePodcastingEbook by the author and download a sample chapter for free at http://www.thepodcastingebook.com/.
About ThePodcastingEbook
"ThePodcastingEbook: Your Complete Guide to Podcasting," was written by Stephanie Ciccarelli, author of "The Definitive Guide To Voice-Over Success" and the "Voice-Over Script Collection", Stephanie Ciccarelli is the VP of Marketing at InteractiveVoices and is also the host and producer of the IV Podcast. More information: http://www.thepodcastingebook.com/
February 2006 is Podcast Month at PRWeb. This press release distributed by PRWeb, the Online Visibility Company.
###