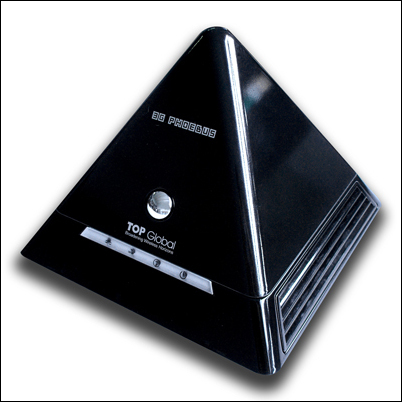 Lake Forest, CA (PRWEB) February 27, 2006
Top Global, a pioneer in wireless convergence systems, announced today the World's first 3G Mobile wireless solution for real time live podcasting based on the company's 3G MobileBridge™ platform.
Top Global has developed and patented the flexible MobileBridge™ platform which serves as a gateway/router that links Third Generation Cellular networks (3G, including CDMA 1x, EVDO, EDGE, UMTS, and HSDPA) and WLAN/LAN networks, enabling customer to enjoy the flexibility and convenience of wireless internet in truly mobile and remote environments. Live broadcast of sports, music, and other real-time events were only made possible by professionals from big TV and Radio stations in the past. With Top Global's affordable MobileBridge™ technology, Pocasters can now podcast live from where the actions are taken place. The combination of Podcasting with 3G mobile wireless technologies will likely to revolutionize the Media Industry.
Top Global's MobileBridge technology was used by radio stations to broadcast live events from the field. MX Sports and DMXS Radio team up and used the MobileBridge™ to provide unprecedented internet coverage of the Air Nautiques AMA Amateur National Motocross Championships last year. Working computer professionals in Las Vegas used the MobileBridge™ for the Usual Suspects Radio Show. Historically, broadcasting professionals have used expensive satellite equipment to broadcast live events to their audience in real time. Top Global's MobileBridge™ enables live podcasting over 3G cellular network which reduces the cost of equipment and network usage fee substantially. Podcasters can now afford to podcast live from anywhere at anytime. The two way broadband wireless data communication capability of the MobileBridge™ also allows listeners to tune-in a live podcasting anywhere around the world within cellular coverage and even in a moving vehicle.
About Top Global
Top Global is a leading wireless systems company and a global leader in third generation (3G) mobile wireless technologies. Top Global offers total wireless solutions for carriers, enterprises, and consumers. Our mobile wireless products and solutions enable enterprise customers to increase productivity, improve operational efficiency, and maintain a competitive edge. Our products are simple to use which improves overall user experience, and our continuous innovation in mobile data applications enhance the quality of life for mobile consumers. We believe the future of wireless communication has just started, and that the nascent wireless broadband Internet will become as pervasive as the Internet itself. Top Global sees it as a business opportunity to give everyone easy wireless high-speed Internet access anywhere at anytime. This wireless horizon has just been discovered, and we will broaden the World Wide Web (WWW) to a World Without Wires (WWW). Our corporate mission is "Broadening Wireless Horizons".
More information about Top Global is available from our Web site at http://www.topglobalusa.com/
For more information, reporters may contact:
Jeffrey Tan
Top Global
949 586 7046
February 2006 is Podcast Month at PRWeb. This press release distributed by PRWeb, the Online Visibility Company.
# # #