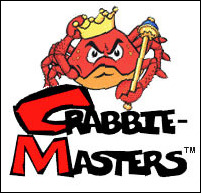 Crack Down on The Crabbies!
Minneapolis, MN (PRWEB) February 27, 2006
Having just launched this creative parenting and childcare concept in January, Becky Undlin, twenty-five year in-home preschool owner notes, "We are ecstatic that the concepts of CrabbieMasters and "Beating The Crabbies!" (e.g. Achey, Get-Along, Too-Tired…) could receive such wonderful recognition so fast." In terms of why CrabbieMasters won, Jodie Lynn, syndicated parenting expert and author, put it best:
"Everyone has enjoyed getting to know about CrabbieMasters and The Crabbies.
This is a must do and go to educational website that will inspire parents and kids alike. CrabbieMasters and 'The Crabbies' provide preschool, childcare and homeschool teachers and parents with practical positive resources to help children learn values and manage behavior and emotions. The best part is that the kids love to blame their unacceptable behavior on a Crabbie...it's a great idea by bringing a whole new concept to the forefront creating a positive outcome for good behavior!" ~ Jodie Lynn, syndicated parenting/health expert, Parent to Parent, CEO/founder of http://www.AddingWisdomAward.com, and author of family/health book, Mommy-CEO.
The Adding Wisdom Award committees are comprised of experts from across the United States: parents, teachers, librarians, pediatricians, psychologists, media critics, child care facility personnel and directors, and other professionals who are involved with children on a daily basis. These committees look for products that entertain and teach, inspiring imagination and creativity.
Additionally, the committees are interested in how products help children grow ethically, socially, intellectually, emotionally and physically. After the committees approve products, the items are then given to Family Testers ' real families ' for testing and evaluation before final decisions are reached.
Becky created 'The Crabbies' (well, 'stumbled on' might be more accurate) in the late 1980's, and has used this and many related concepts (e.g. WiseOnes, U.L.T.I.M.A.T.E. Skills, Kids-In-Charge) in her own in-home preschool for almost twenty years. Teaching young children to become CrabbieMasters has become the single greatest key – the foundation really – to her success in working with children of preschool age and older. For years, she wanted to find a way to share everything she has learned to help adults help children (and themselves!) deal with the inevitable ups and downs of any given day. One of her earliest preschoolers, Paul Fischer, had been after her to build a website for a long time and now, with his creative energy, it's done. Becky hopes it will be as valuable of a resource to other adults, caregivers, parents and teachers of young children as it has been to her.
Oh, it's all free too – unless you want to make a donation or go to a very small store with a few items that might help you and the children you work with "Crack Down on The Crabbies!" – but truly, you can get everything you need to "BEAT The Crabbies!" just browsing through the website and downloading helpful printables without spending a penny. Becky simply thinks that that's the way it should be.
Now everyone can beat "The Crabbiest Crabbie in the Whole Universe!" – and we know which one it is…
Michael Undlin
CrabbieMasters
(612) 309-6548
michael@crabbies.com
# # #