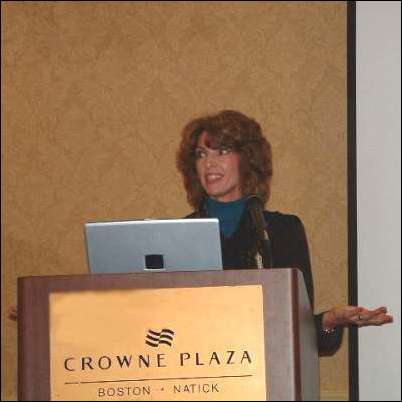 Site Clinic is my favorite session. It's dynamic and totally unpredictable. Over the years I've reviewed and provided optimization advice from sites ranging from Ebay to Deloitte & Touche. It's a fun session and the highlight of the show for many people.
Dallas, TX (PRWEB) February 24, 2006 –-
KeyRelevance, a full-service Dallas search engine marketing firm, is proud to announce that Christine Churchill, President of KeyRelevance, will be a featured speaker at the upcoming Search Engine Strategies Conference. Considered the premier event for the search engine marketing and optimization industry, Search Engine Strategies will be held from February 27th through March 2nd, 2006 in New York City, NY.
The four day conference will feature search engine marketing experts and representatives from major search engines, including representatives from Google, MSN, Yahoo!, and Ask Jeeves. Nationally recognized for her in-depth knowledge of search engine marketing, Ms. Churchill is a veteran speaker at the Search Engine Strategies Conferences and is the featured speaker in multiple sessions on topics encompassing both organic and paid search and keyword research.
"Identifying which keywords to target is critical to the success of a company's online marketing campaign. It's the area where most firms fail. We've become specialists in keyword research and help clients improve their targeting," explained Christine Churchill.
In addition to presenting both the Basic and Advanced Keyword Research sessions at Search Engine Strategies, Ms. Churchill, along with friend and colleague Jake Baillie, President of TrueLocal, chair the popular Site Clinic – one of the consistently highest-ranked sessions of the conference. The Site Clinic involves taking live volunteers from the audience and reviewing their sites interactively to provide constructive advice on how to improve their online presence.
"Site Clinic is my favorite session. It's dynamic and totally unpredictable. Over the years I've reviewed and provided optimization advice from sites ranging from Ebay to Deloitte & Touche. It's a fun session and the highlight of the show for many people."
About KeyRelevance
KeyRelevance (http://www.keyrelevance.com) is a full service Dallas search engine marketing and optimization company specializing in custom search engine marketing and web site usability consulting for online businesses. KeyRelevance provides search engine optimization, pay per click management, usability testing, and conversion enhancement for businesses seeking better performance from their online marketing. KeyRelevance's President, Christine Churchill, has been providing online marketing advice for ten years and is a sought after speaker on both the national and international Search Engine Marketing conference circuit. Ms Churchill was a founding member of the Board of Directors of the global Search Engine Marketing Professional Organization (SEMPO) and is Chairman of the Dallas Search Engine Marketing Association (http://www.dfwsem.org)
Contact:
Contact: Michael Churchill
KeyRelevance.com
39 Santa Rosa Circle
Wylie, Texas 75098
(972) 429-1222 phone
# # #