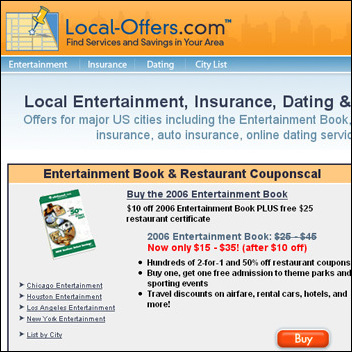 Austin, TX (PRWEB) March 2, 2006
Internet users can now find numerous local services and savings in one place at Local-Offers.com. The site is organized into four sections: Entertainment, Insurance, Dating, and City List. The first three sections of the site include a variety of offers in the chosen category for each city. The City List tab lists all cities featured on the site and allows visitors quick access to all the offers for each city.
With Local-Offers.com, visitors can find numerous types of offers for their city in one place, and then go directly to city-specific pages on linked partner sites. If a visitor wants Chicago Health Insurance Quotes, for example, he can click through from Local-Offers.com to eHealthInsurance and land on a health insurance page at eHealthInsurance for Chicago. A visitor looking for Online Dating Chicago will click through from Local-Offers and see photos of available singles in Chicago. "I can use this site for all sorts of stuff," said Student and Dallas Resident Shelley Regan, "I'll save money using the restaurant coupons and I'll be able to check out all the Dallas online dating services to see which has the cutest guys before I join one!"
The Entertainment Offers section of Local-Offers.com features the Entertainment® Book, restaurant coupons, and event tickets. The current Entertainment® Book offer is always available. Entertainment-Savings-Offers.com currently features the promotion of 50% of all Entertainment Books. Restaurant coupons purchased through Local-Offers.com can save visitors up to 50% when they dine out at local restaurants, and can be purchased for less than half of face value (a $25 gift certificate can be purchased for $10, for example). Event tickets include tickets to sold-out concerts, sporting events, and shows.
The Insurance section of Local-Offers.com has local health insurance quotes and dental insurance quotes for individuals, families, small businesses, and students. Auto, life, short-term, long-term, dental, and home insurance quotes are also available. The process of getting an insurance quote can take as little as 5 minutes from the time a visitor leaves Local-Offers.com.
The Dating section of Local-Offers.com has the latest offers from Yahoo! Personals, Match.com, and FriendFinder. When visitors visit a city dating page on Local-Offers.com, such as Online Dating Houston, they can click through from Local-Offers.com directly to a page on the corresponding online dating site that displays local singles. Local-Offers has online dating services for over 142 major US cities, including New York online dating, San Antonio online dating, and San Diego online dating. Visitors can do this for each dating site and base their decision on which to join on the quality of available singles in their area.
Visit Local-Offers.com today and find offers and savings in your area.
About Local-Offers.com:
Local-Offers.com helps visitors find offers and savings for their city, including the latest Entertainment® Book offer, restaurant coupons, health and dental insurance and dating services. Visitors leave the site and land on a city-specific page that will help them find the exact offer for their city that they seek. Local-Offers.com is an official affiliate of Entertainment Publications, Inc., Restaurant.com, StubHub.com, eHealthInsurance Services, Inc, InsureMe, DentalPlans.com, Yahoo! Personals, Match.com, and FriendFinder Network, Inc.
###