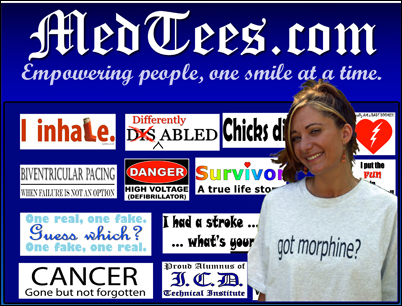 Wilmette, IL (PRWEB) March 1, 2006
Who in their right mind would want to wear this slogan on their chest after a mastectomy? Anyone who wants to show their strength in the face of adversity, that's who. And it takes one to know one. After all, this shirt was designed by a breast cancer survivor for MedTees.com, an online store specializing in health-related humorous and inspirational apparel. Whether its cancer, heart disease, diabetes, lung disease, gastrointestinal disorders, amputation, psychological disorders, or post-surgical issues, MedTees.com has shirts to fit most medical ailments. And the list keeps growing. Over half of the designs are suggested by patients themselves and a portion of proceeds are directed to the charities chosen by those patients.
MedTees.com was founded in May 2005 and is the brainchild of a cardiologist and psychologist husband/wife team with an eye toward building a support community for patients with chronic and difficult diseases. The interest in the site has been unprecedented. Patients describe the shirts as "life-changing", testimonials flow in daily, parents buy for kids, adult children buy for aging parents, friends, conferences, and support groups. MedTees.com users are so passionate about the website, they also regularly offer to participate in press appearances and TV spots.
"In our society today, personal health issues remain taboo," says Westby G. Fisher, MD, one of the MedTees.com founders, "yet there are few of us who don't know someone who is sick and in need of a little laugh. How we cope with our disease and yet raise awareness about the struggles in a humorous and supportive manner is what we're all about. This is where the t-shirts come in."
"Patients feel empowered when they can bring their disease 'out of the closet' by wearing one of our shirts," according to co-founder Diane G. Fisher, PhD. "It takes guts to wear a t-shirt when you're an amputee that says, 'I don't have to wait for the other shoe to drop' or 'Careful, I'm Wired' for the patient with an automatic cardiac defibrillator. People laugh, but they also take notice. For patients who want to be pro-active regarding support for their illness, it's a great way to get the word out."
"And this is not just for adults," she adds. "A father with a genetic heart disease asked for a creeper for his toddler daughter, a mom with Crohn's disease bought one size for herself, and one for her six year old with the same disorder. When disease runs in a family, you'd better believe parents want to advocate any way they can. Disease spares no age - so there are designs and sizes for teens down to infants."
And there's another way the site helps people feel better about their condition: they can help others. Proceeds from the shirts support the website costs and contribute to well-known non-profit organizations including the American Cancer Society, Juvenile Diabetes Research Foundation, Arthritis Foundation, American Academy of Orthotics and Prosthetics, Children and Adults with Attention-Deficit/Hyperactivity Disorder, Epilepsy Foundation, Heart Rhythm Foundation, and the Obsessive Compulsive Foundation.
So the next time you see a shirt that says, "I Inhale," remember, it might be someone who has lung disease and uses inhalers regularly, has a sense of humor, is coping well, and has supported a good cause. Now that's a way to feel better.
About MedTees.com
MedTees.com is an online health-related t-shirt and merchandise store to empower people with chronic or difficult illnesses by providing humor, information, and community while contributing to many research and advocacy foundations.
# # #