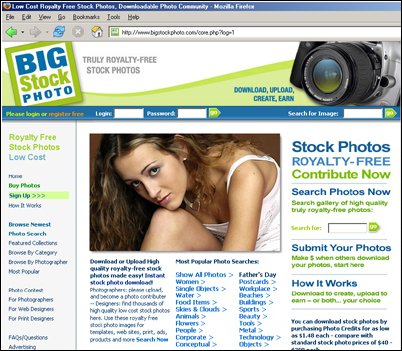 Besides the major growth and feature improvements that have made BigStockPhoto a recognized player in the industry, sales revenues have improved near 10% per week many times lately
Davis, CA (PRWEB) March 1, 2006
FOR IMMEDIATE RELEASE
DAVIS, California (PRWEB) March 1, 2006 -- BigStockPhoto.com (http://www.BigStockPhoto.com), a leading provider in low-cost stock images, has proven itself to be a noteworthy force within the royalty-free stock photography industry. Since launching in fall of 2004, BigStockPhoto.com now has over 270,000 images in its collection, with 10,000 new photos added weekly and 40,000 users. New features are added frequently, including this month's download shopping cart, streamlined special licensing agreements, and premium co-branded affiliate sites.
"Besides the major growth and feature improvements that have made BigStockPhoto a recognized player in the industry, sales revenues have improved near 10% per week many times lately," said BigStockPhoto co-founder and CEO, Tim Donahue. He attributes the success to digital camera improvements, photographer's willingness to explore new markets, the sophistication of the BigStockPhoto search engine, and a user-friendly interface and environment. "We are getting overwhelming positive feedback from our photo buyers and the design community. They are pleased with our easy to use site and our friendly staff. Buyers are thrilled beyond belief at our ability to supply these incredible stock images at a mere fraction of the $40-$50 prices they are used to paying at other sites. With our images priced at just $1 - $2 each, we're changing the way these designers and photo buyers work."
The expansive BigStockPhoto image collection covers all subject matters such as: business, people, medical, food, sports, architecture, conceptual, nature, fashion, abstract, technology, and seasonal themes. The photos are used by designers, marketers, editors, publishers, educators or anyone needing stock photos for their website, advertisements, brochures, newsletters, direct mail, office posters or any other use.
About BigStockPhoto
BigStockPhoto (http://www.BigStockPhoto.com) is one of the world's leading low-cost, royalty-free stock photography agencies. Images can be used for almost any purpose, such as print, web, products, education, and editorial. All photographs are categorized, highly searchable and affordable. BigStockPhoto is dedicated to helping stock photo buyers keep on budget while providing exceptional quality images. BigStockPhoto is headquartered in Davis, California - images are provided by photographers from around the globe.
Media Contact:
Dawn Donahue
530.852.4867
###