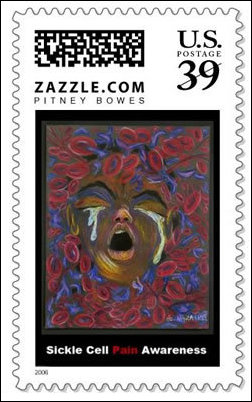 Bridgeport, CT (PRWEB) March 2, 2006
A new PC Postage Stamp Series has been designed by the famous Haitian born Artist Hertz Nazaire, whose Sickle Cell Pain paintings are known and featured worldwide in a range of products from fine art prints to medical book covers, these pain images have helped in the education and awareness of Sickle Cell Disease for many years.
Sickle Cell Pain Awareness Postage Stamps have been created to help in the on going fight to provide more awareness and understanding of what it means to live with chronic pain. Since the Artist himself suffers from this painful disease, he was able to fully express the deep sensation of drowning in pain; the images are truly amplified by the soulful sensibility of a gifted artist.
Before thinking of stamps, Hertz Nazaire created art prints, greeting cards, posters, and more artistic collectible items, all inspired by his desire to help raise the awareness of Sickle Cell and hope in other who suffer. During that period of his life when he first painted this series he was forced to become homeless by the frequency of painful crisis, and spending months in hospitals without work. Pain is in fact a main theme in his art and the emotions perceived from his works confirm the feelings and conflict of pain. Although the pain images are clear, Nazaire does not feel to have a definite style in his art, he sees changes and growth in his work, "I'm still growing as an artist and learning through life's challenges and many experiences. I accept that I am an artist and that painting is a blessing, it allows me to feel the most alive. I find courage in knowing that nothing stays the same in life. I also desire to change, from the way I live, to the way I paint. Everything has a beginning and an end, one day even this pain, if God who painted it into my life wills it, this pain will also change and may even have an end, painted over with hope and love."
The Sickle Cell Pain Awareness stamps are available online through Zazzle.com an approved U.S. Postal Service licensed vendor of customized PC Postage and http://www.sicklecellstamps.com.
Nazaire was born in Port-au-Prince, Haiti, moved to the U.S. to live with his mother at a young age. Yet still his paintings are characterized by vivid colour thanks to the influence of his childhood in Haiti. Nazaire also designed and maintains a web site Haiti 1804 Kreyol.com named after the language he almost forgot, a site in which he shares image galleries of his works, along with his original poetry as he shows his love and respect for Haiti and its long history of struggle and a vibrant culture.
For more information on Hertz Nazaire and the series of Sickle Cell Pain Awareness postage stamps, visit http://www.sicklecellstamps.com.
# # #