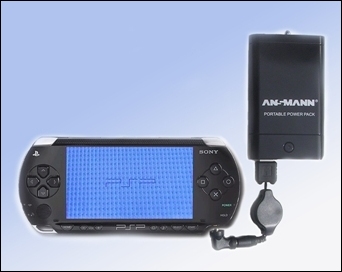 The Ansmann rechargeable battery was recently reviewed by PSP world (www.pspworld.com) and Gamers Reports (www.gamersreports.com) and received an
Pitman, N.J. (PRWEB) March 1, 2006
Horizon Battery introduces a new external rechargeable battery pack for the Sony PSP. Manufactured by Ansmann, this rechargeable PSP accessory provides an additional 10 hours of playing and viewing time on a single charge. Add this time to the PSP's internal battery, and gamers gain extended gaming and video pleasure without the need to constantly "plug in and recharge."
"The Ansmann rechargeable battery was recently reviewed by PSP world (http://www.pspworld.com) and Gamers Reports (http://www.gamersreports.com) and received an "A" rating and 9.0, respectively," states David Schliep, VP of Sales and Marketing for Horizon Battery. "As compared to the batteries already on the market, the Ansmann rechargeable battery is a hands-down winner. Serious gamers will appreciate the design, features, and function of this attractive, powerful and light-weight accessory."
The PSP accessory can be recharged 500 times either directly through the PSP power supply or via a USB port on a MAC/PC with the supplied USB cable. Charging time is about 4.5 hours. The 5V lithium-ion battery packs a solid 3200 mah capacity in a sleek, black, light-weight design that matches the PSP's style and elegance. A convenient, retractable charging cord keeps "wire mess" to a minimum. Retail price for the PSP accessory is approximately $49.
The Ansmann rechargeable battery is available online at http://www.horizonbattery.com and at select PSP accessory dealers throughout the U.S. The Horizon Group is the authorized distributor of Ansmann rechargeable batteries and battery chargers for the U.S. markets, including batteries for the Apple iPod and Nintendo DS, digital camera and camcorder rechargeable batteries, pro-audio/video applications and rechargeable family battery kits. Retailer/e-tailer inquiries welcome.
Read the reviews:
http://www.pspworld.com/sony-psp/reviews/ansmann-portable-power-pack-review-002801.php
http://www.gamersreports.com/review/25/
For more information, contact:
David Schliep
Horizon Battery
Phone: (856) 582-8210
Fax: (856) 582-5399
# # #