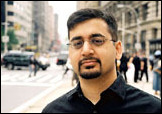 The previous gatherings have been among the best sources of practical, hands-on information for using blogs to build your business.
Los Angeles, CA (PRWEB) March 1, 2006
The Blog Business Summit, a leading blogging conference firm, announces Anil Dash of Six Apart will speak at the company's full day seminar in Los Angeles covering the "Essentials of Business Blogging", Thursday, March 16, 2006.
Anil Dash was a highly influential blogger long before most people knew what blogging was. So it was a natural fit for him when Six Apart, then a Web startup with a promising new blogging platform called Movable Type asked him to join their team in 2003. Since that time Six Apart has grown dramatically in size and influence. Most recently, its deal with Yahoo! put Movable Type blogging software in the hands of millions of small business owners.
Being an influential blogger and part of the company that brought business blogging to the masses - Anil was also a natural fit to speak at Blog Business Summit's upcoming Essentials of Business Blogging seminar in Los Angeles.
"I'm very excited to be participating in this event," said Anil from his office in San Francisco. "The previous gatherings have been among the best sources of practical, hands-on information for using blogs to build your business."
The day long event will include an overview of blogging strategies presented by influential business bloggers. Session topics include how to monitor what bloggers are saying about your business, how to start your own blog and ways to promote your blog for maximum exposure.
Anil says that his talk at the seminar will focus on, "the future of business blogging, whether for our Fortune 500 customers, for independent professionals, or for anyone in between." Joining him at the podium will be respected blogger Janet Johnson of Marqui - a Web marketing firm based in Vancouver, BC; Blog Business Summit President and Founder Steve Broback; and D.L. Byron, an expert business blogger and Web entrepreneur.
In all, over 200 marketing, public relations and entertainment executives from across Southern California will come together to explore new techniques for creating blogs that accomplish many business communications goals – from boosting sales to guiding public perception.
"We're thrilled to be bringing this event to Los Angeles," said Broback. "Business blogging is a huge part of the future of business communications. As I recently told The New York Times, 'the rush is starting.'"
To register for the event or for more information, please visit http://www.blogbusinesssummit.com/seminars. About the event hosts:Blog Business Summit is a conference and seminar series focused on business blogging. It is a leading authority on the development and implementation of successful business blogs. Its mission is to bring together expert bloggers and thought leaders with entrepreneurial and corporate executives for the purpose of developing and leveraging blogging platforms for profit, collaborative and public relations benefits.
PRWeb is the official newswire of the Blog Business Summit because we recognize that they are the leader in online news and press release distribution.
Media Contact:
Teresa Valdez Klein
(206)-229-9335
# # #