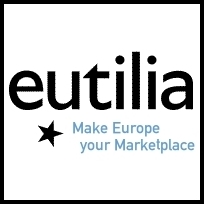 (PRWEB) March 3, 2006
Eutilia.net is an online B2B marketplace stimulating business between sellers and buyers for small and medium enterprises (SME's), within the European Union and beyond. Eutilia.net facilitates online interactions between users, through sending of enquiries and alerts, requesting information and pro-actively promoting users to each other if their profiles match. Eutilia.net offers users a Global Directory, eRFx, eTendering, reverse auction, classified ads and European Public tender alerts. Initially launched in English, eutilia.net will progressively expand with future updates in other European languages to further boost more local business. SME's can use Eutilia.net to sell goods, identify new sources of supply and to find help with importing and exporting to other countries additional to their existing sales channels.
Major benefits for sell-side SMEs are an increase in potential sales volumes and efficiently promote their business's using a cost effective sales channel:
Instant access to new markets: Receiving local and worldwide requests for proposal (RFP). There are more than 600,000 business opportunities published on Eutilia.net,
Increased exposure: Creating a company showroom online and making it available to more than 400,000 users to promote products, services, expertise and knowledge,
Reduced customer acquisition cost: Publishing a company profile and receiving multiple RFPs online costs less than 17 Euros per month without additional costs such as IT development or marketing.
Major benefits for buy-side companies is to save time and money:
Sending requests for proposal (RFP) and receiving offers is free of charge,
Reducing time searching for suppliers: just post enquiries and receive the replies for analysis,
Finding new credible and competitive sources of supply both locally and worldwide: companies listed in Eutilia.net are trust-rated according to a simple star rating system.
"Initially focused on the Public and Utility sectors, Eutilia decided in 2005 to target the European SME market as a gap analysis highlighted a market requiring low customer acquisition costs and low-price schemes for our online tools. The European SME market is a large fragmented market of 25 million companies not yet exposed to online tools and with our assistance can dramatically and competitively increase their revenues. We are aiming at being their preferred online partner to boost their business." says Jean Philippe Massin, Eutilia's CEO.
Eutilia.net is based on the Worldbid.com robust technology and network, which with our launch results in more than 100 other Marketplaces being connected to Eutilia.net. Whilst the number of users is already impressive with 400,000 registered businesses, Eutilia is also working locally in each EU member state with private and public organizations, to get European SMEs connected, accessible online, and benefiting from a cost effective sales channel. Focused on increasing European SME's business, Eutilia.net provides affordable online tools facilitating SMEs to directly receive inquiries in their mailbox and respond online, access buyer details, differentiate and market online their own products or services via a showroom and at last can promote their company profile and references online.
Pricing scheme is straightforward. It's free for buyers!
It's also free for sellers to browse content and a low annual subscription of less than 17 Euros per month is all it costs for SMEs to receive RFQs or to find and win new business faster by:
Accessing the Eutilia.net buying network when both sending and receiving enquiries,
Differentiating and increasing their own credibility with Eutilia.net star-rating system,
Increasing their exposure using the company showroom tools to promote both their company or their products.
To know more about how Eutilia.net can help your business to grow in Europe and beyond visit http://www.eutilia.net today!
About Eutilia N.V. (http://www.eutilia.com)
Eutilia is a leading e-marketplace in Europe. It creates value for European SMEs and enterprises, buyers and sellers, by using technology to improve market and process efficiencies.
Eutilia was incorporated in The Netherlands in March 2001, and has the financial backing of 11 major European Utilities.
# # #