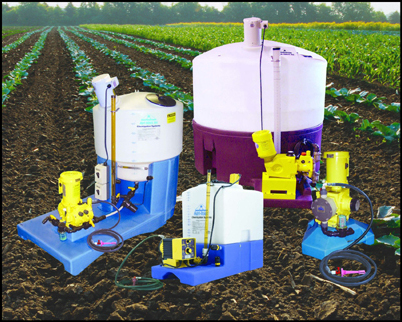 I wanted the flexibility to treat my crops as needed without waiting on someone else
Yuma, CO (PRWEB) March 2, 2006
Rising agricultural costs including fuel, labor, and capital outlays combined with the whims of the market and Mother Nature have left farmers searching for control over their financial futures. While traditional aerial or ground spraying are still relied on, many farmers are turning to irrigation fertigation systems and chemigation for significantly lower input costs and more flexibility in fertilizing crops or applying agricultural chemicals such as pesticides and herbicides.
"With today's thin margins, aerial chemical applicators are cost prohibitive for me at $5 to 6 an acre," says Joe Newton, who farms 3,000 acres of corn, potato, alfalfa, kidney and pinto beans in Eckley, Colorado.
Moreover, when a few commercial applicators cover an entire county of growers someone is going to wait during the busy season or inevitable crisis. "I wanted the flexibility to treat my crops as needed without waiting on someone else," explains Newton.
High capital costs on ground sprayers of fertilizer are also crimping farmers' profit margins, not to mention escalating costs for fuel, labor, and upkeep.
"A farmer with a $50,000 ground sprayer not only has to pull it across his fields but also irrigate to incorporate the fertilizer in the soil," says Newton. "Farmers without irrigation can pay even more for a sophisticated sprayer -- up to $150,000."
Like a growing number of farmers, Newton turned to irrigation fertigation systems and chemigation to lower input costs and increase grower flexibility.
For over a decade, he has relied on equipment from Agri-Inject, Inc. (http://www.agri-inject.com), a leader in fertigation and chemigation since it founded the industry in the 1960s. Through a 130-acre center pivot irrigation system, Newton fertigates his corn, potatoes, kidney and pinto beans with nitrogen, sulfur, and potash using Agri-Inject units that he leaves in place. The units' chemical metering pumps also handle pesticides and herbicides, primarily for Newton's beans and potatoes.
Where aerial application of agricultural chemicals such as pesticides and herbicides can cost $5 to $6 an acre, Newton estimates that chemigation costs him about $1 an acre. "I spoon feed my crops what they need, when they need it, without coordinating with a commercial applicator who may be busy elsewhere."
The process is also much faster and easier than pulling a sprayer through the fields, which Newton estimates would take him 12 hours. Fertigating and chemigating is much simpler. Early in the morning he simply puts product in the tank, calibrates it, and runs it on a 9 to 14 hour cycle. He typically checks it twice during the day and it finishes up on its own.
"The process takes less than an hour, and I'd check it anyway," says Newton. "There's no overlapped or missed rows, no soil compaction, and the soil incorporation gets done along with the irrigation."
"I'm saving at least $12,000 annually using fertigation and chemigation," concludes Newton. "After the Agri-Inject units paid for themselves the first year, they've added to the bottom line ever since."
For more information:
Arnold Page
Agri-Inject, Inc.
Phone (800) 446-5328
5500 East Highway 34
Yuma, Colorado 80759
# # #