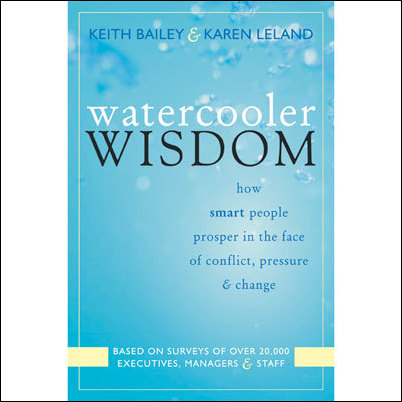 Remember that prospering in the face of change, pressure, and conflict doesn't mean walking around wearing an artificial smile of denial
San Francisco, CA (PRWEB) March 6, 2006
An administrative assistant in Singapore. A small business owner in San Diego. A CEO in Spain. As different as their workplace situations may be, they all face tight deadlines, teeth-grinding office politics and less time to get more and more done each day. Important stress management insights can be learned from these stress-filled workplace experiences.
Karen Leland and Keith Bailey, world-renowned business consultants and authors of the new book, Watercooler Wisdom: How Smart People Prosper in the Face of Conflict, Pressure and Change (March 2006; New Harbinger Publications), surveyed over 20,000 executives, managers, and staff from around the globe. In their new book, they report what they learned from these surveys and show us how to transform workplace stress from frustrating to fulfilling . . . and how to create a feeling of satisfaction and accomplishment regardless of circumstances.
Watercooler Wisdom is not a "business as usual" business book. It is a primer, a practical, down-to-earth user's manual, that provides pertinent and powerful techniques for coping with conflict, change, and pressure—the three greatest workplace stressors worldwide. For instance, the authors address a phenomenon we all face of recurring thoughts that center on our worries (which generally never happen) and our judgments (which only serve to keep us frustrated). They guide readers through stress management techniques that show how workers can take their focus off their thoughts and rediscover a part of themselves that is alive in the present.
"Remember that prospering in the face of change, pressure, and conflict doesn't mean walking around wearing an artificial smile of denial," Bailey and Leland write. "To prosper, in our book, means to do well and grow—even when prevailing circumstances, including workplace stress, seem to conspire against you. Ultimately, when we look inward to ourselves for solutions, rather than endlessly waiting for the circumstances to change, we all become smart people."
About the Authors
Karen Leland and Keith Bailey are co-founders of Sterling Consulting Group, Inc., an international management consulting firm whose clients include American Express, Avis Rent A Car, Bristol Myers-Squibb and Microsoft. They have been interviewed by dozens of media outlets including API, BBC, CBS, CNN, Fortune, Newsweek, The New York Times, Time magazine, and The Oprah Winfrey Show. For more information contact them at kleland@scgtraining.com or call (415) 260-4615.
About Watercooler Wisdom
Watercooler Wisdom: How Smart People Prosper in the Face of Conflict, Pressure and Change (New Harbinger Publications, 2006, ISBN: 1-57224-436-4, $14.95) will be available in bookstores nationwide, from major online booksellers, and from http://www.newharbinger.com. More information about Watercooler Wisdom can be found here: http://scgtraining.com/products/wcw/index.html
Review copies of Watercooler Wisdom for Press & Media
If you would like a copy of Watercooler Wisdom for review please contact Lorna Garano, New Harbinger Publications (510) 652-0215 x107.
# # #