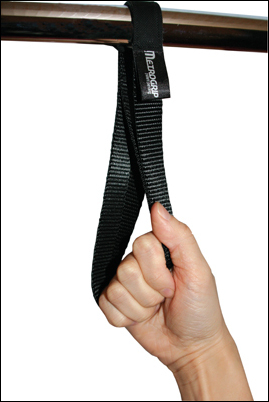 Most people bought two or more. Some even bought 10-20 at a time. Probably as stocking stuffers.
Brooklyn, NY (PRWEB) March 7, 2006
The newly released "Metrogrip II" subway straps offer businesses a way to market their brand message to millions of people who commute on subways, trains, and buses in major metropolitan cities across the nation.
The all-nylon handles allow for approximately 24-inches of space which can be embroidered or silk-screened with a business's logo or website address, and can be seen by onlookers in all directions. Metrogrip™'s are portable personal straps that are used by subway and bus passengers to hold onto public handrails when they are unable to get a seat. The primary function of the product is to provide a more hygienic commute, though it also offers comfort to the user in an ergonomic sense.
Metrogrip™ first gained public awareness last year when a feature article was published in New York Magazine, followed by mentions in AM NY and Metro NY newspapers, as well as a blurb in L Magazine. "We starting seeing a lot of sales around Christmas time," says Christine Goulden, the inventor of Metrogrip™. "Most people bought two or more. Some even bought 10-20 at a time. Probably as stocking stuffers."
Christine relates that the product is an eye-catching icebreaker, as she herself has been approached by onlookers while using one, with inquires about the Metrogrip™ and where to get one. "It's a very personal product that tells you something about the person using it. It grabs your attention out of its sheer newness."
It is this attention-attracting property that gave Christine the idea to offer customizable straps to companies and organizations wishing to achieve brand awareness amongst city commuters. "What better way to advertise your business to new customers?" says Christine, "Than by giving your current customers, clients, and employees a useful gift with your logo on it that won't stay on their desks in their private offices or cubicles along with all the customized coffee mugs, pens, magnets, and mouse pads?"
Customized Metrogrip II straps are available in many different colors and can be ordered by contacting Jennifer Perrotta, Director of Marketing, at 646-388-0100. A minimum production run of 2,500 units applies. Visit the website at http://www.metrogrip.com for more information.
###