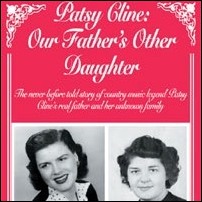 Patsy Cline: Our Father's Other Daughter
Melbourne, FL (PRWEB) March 3, 2006
After many years of rumors and false information, Charlotte Brannon Bartles, has finally released a tell-all book "Patsy Cline: Our Father's Other Daughter", featuring the never before told story about the country music legend Patsy Cline, their mutual father (Chester "Chet" Brannon), and the unknown family. In setting the record straight, Charlotte hopes that this missing chapter from the other published biographies will help fans and friends know and understand the real Patsy as she fondly remembers her.
Patsy Cline, the legendary singer who died tragically on March 5, 1963 was Charlotte's half-sister. Dating back to as early as the 1950's, this secret has been well guarded within the immediate circle of family and friends located in the tri-state area of Maryland, Virginia and Pennsylvania. In breaking her silence, Charlotte states "If Patsy were still with us, I do believe the truth about our family would have already been revealed. She was a forthright person and never made any attempts to hide the fact that she had a special relationship with our father."
Cited in numerous dates over the years, this book portrays Charlotte's fond recollections of the times that Patsy would visit the Brannon household, whether it was for dinner and socializing or just a brief stop over before performing a local show. It's important to her that people understand and recognize that Patsy and Chester had a relationship that was more than biological. They were father and daughter, knew each other well and spent time together. Chester was extremely supportive of Patsy, and loved her immensely.
The important fact is that sooner or later this story would be told but it needs to be told truthfully and as accurately as possible. If not, then the crazy rumors and misinformation will make the truth appear to be nothing more than folklore.
To learn more about this poignant and heartfelt memoir, tune in to "What's Happening Brevard" (http://www.WhatsHappeningBrevard.com) on Friday, March 3 at 2:10 p.m. EST. Hosts Jackie McCoy and Susan Ramon will be doing a special live interview with Linda Sowers, co-author of the book. She will be talking candidly about Charlotte, Patsy and the well guarded secret that is finally being made public.
"Patsy Cline: Our Father's Other Daughter" is on sale for less than $12.00 and is available in print and digital download on Amazon (http://www.amazon.com/gp/product/0595373240/qid=1141334211/sr=2-2/ref=pd_bbs_b_2_2/104-2101340-9504704?s=books&v=glance&n=283155) and iUniverse (http://www.iuniverse.com/bookstore/book_detail.asp?&isbn=0-595-37324-0).
About the authors:
Charlotte Brannon Bartles is the daughter of Chester "Chet" Brannon and is the half-sister of Patsy Cline. She still lives in her hometown of Hancock, MD. She was employed by the town for many years and was the water plant supervisor at the time of her retirement in 1994. She enjoys arts and crafts and spending time with her grandchildren.
Linda M Sowers, a lifelong Patsy Cline fan, lives in McConnellsburg, PA. She holds a B. A. in Behavioral Science from Messiah College, Grantham, PA. She is retired from a long career in the human services field.
About What's Happening Brevard:
The show "What's Happening Brevard" (http://www.WhatsHappeningBrevard.com) is hosted by Jackie McCoy and Susan Ramon, otherwise known as "The Crazy Radio Chicks" (http://www.TheCrazyRadioChicks.com). It officially launched on the internet on April 18, 2005, and has gained an international cosmopolitan following.
Jackie McCoy and her partner Mad Maynard currently have the longest running Oldie's Show in the nation (26 years) called The Original Sunday Night Oldies Show. It is held in St. Louis at The Dorsett Inn every Sunday night and at JP's Corner every Wednesday night. You can also catch Jackie on KEZK in St. Louis hosting the show "Pillow Talk" every Saturday evening.
Susan Ramon was a Disc Jockey in the mid 80's with Jackie McCoy and left radio to pursue her career in the horse business. An opportunity to re-enter the radio business with parent company, Tropic Wave Radio (http://www.TropicWaveRadio.net) was offered last March and she jumped at the chance to work with Jackie again.
# # #