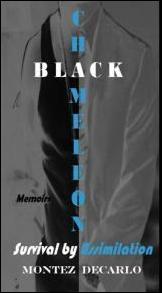 Detroit, MI (PRWEB) March 6, 2006
A representative from NetTactix Communications, a distributor for Montez DeCarlo's new book Black Chameleon Memoirs, stated today that someone who said that they were a Federal Agent investigating several unsolved murders that took place in Detroit in the 1970s contacted the company.
The caller went on to say that, even though the book is being marketed as Fiction, a preliminary investigation revealed a distinct correlation between a crime committed in the military by Montez DeCarlo and a crime commited by the main character in the book. Furthermore, the authorities believe the author made a serious slip up by referring to Milton "Butch" Jones, the notorious leader and founder of Young Boys Incorporated (YBI), the drug gang that terrorized Detroit in the '70s and the early '80s. The name of the drug organization was changed in the book to Young Hustlers Incorporated, but Mr. DeCarlo forgot to change the name of one of the key players, "Butch" Jones.
Jones is currently serving a life sentence for a double murder and conspiracy; however, if the authorities are able to prove that Black Chameleon Memoirs is more fact than fiction, it could breathe new life into Jones' murder defense and possibly send Mr. DeCarlo to jail for life. There are no statutes of limitation on murder.
NetTactix Communications states that they are confident that the investigation will reveal that the book is Fiction and will not stop distributing the book because of these allegations.
Montez DeCarlo was not available for comment.
http://www.blackchameleonmemoirs.com
# # #