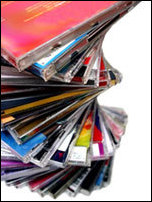 12 CDs for the Price of 1
Provo, Utah (PRWEB) March 10, 2006
BMG Music Service--you've probably seen their ads that say "12 CDs for the Price of 1" and you've probably wondered "What's the catch?" Do they charge so much for shipping and handling that you're really paying full-price? We asked Jennifer Loch of Music Service Reviews what she thought of this offer:
"I was skeptical so I went to the BMG Music website to see what it was all about. I checked to see if they had the CDs I was looking for. With the exception of one or two artists they carried most of the CDs I wanted, but their CD prices were higher than usual. I found out that when you join you get 7 free CDs, then you have to buy one CD at regular price to get your remaining four free CDs. I joined to test it out.
They let me choose 7 free CDs up front but I had to pay for the shipping and handling. The shipping and handling for the 7 CDs totaled $19.53. A little while later I fulfilled my commitment by purchasing one CD at full price and at the same time I was able to choose my remaining 4 free CDs. The full-priced CD plus the shipping and handling for that CD and for the four free ones came to $33.02. If you add together the $19.53 for the first shipment and the $33.02 for the second shipment, that makes $52.55. Divide that by 12 (the number of CDs I got for that amount of money) and you'll find that each CD cost $4.38. That's not a bad price for a brand new CD so I would recommend BMG Music Service."
Loch did find a small catch:
"The drawback was that after I joined they started sending me a 'featured selection' email every month. If I didn't respond with a 'no' they would automatically send me the featured CD and charge me for it. Those CDs you have to pay for aren't cheap so you don't want to put off saying no to the monthly featured selection. If you can do that you'll be on the winning end of the deal."
Those featured selection emails will come once a month for as long as you are a member. We asked Loch how long the membership lasts:
"As soon as I purchased my one CD at full price and got my 11 free CDs I was able to cancel my membership and the featured selection emails stopped coming. But then I actually signed up again to get 11 more free CDs. I found that $4.38 CDs make great gifts. The recipient has no way of knowing you got the CD at such a deep discount."
To browse the BMG music catalog and claim your 11 free CDs, go to BMGCatalog.com.
What about Columbia House Music Club? Didn't they have a similar deal? They did, but things have recently changed. We found this statement on the Columbia House website:
"The Columbia House Music Club is officially closing its doors on September 1, 2005. Columbia House Music Club memberships in good standing will automatically be converted to BMG Music Service memberships on September 1, 2005."
We found out that BMG actually acquired Columbia House. At the same time they started a new program called Your Music. With Your Music all CDs are $5.99 with free shipping. There are none of those annoying monthly "featured selections". You simply place the CDs you want in your "music queue" and once a month they send you the next CD in your queue. There is no minimum to buy and you can cancel at any time. If you're the busy no-nonsense type you might like the Your Music program better than BMG because it's hassle-free. Visit YourMusicProgram.com to learn more.
Your Music also offers something that BMG doesn't: you can purchase gift subscriptions in 3, 6, 9 or 12 month increments for just $5.99 per month. This makes a unique gift because the recipient gets to choose the CDs they want. Here's how it works: An email is sent to the recipient announcing the gift subscription and they are instructed to go to the Your Music website to create a personal music queue. Each month during the subscription period the next CD in their queue arrives, similar to a "CD of the month" club.
From what we could tell both BMG and Your Music are legitimate and their offers deliver on their claims. A person willing to put up with some hassle can get a great deal with BMG. A busy person will probably find Your Music to be a better fit for them.
###