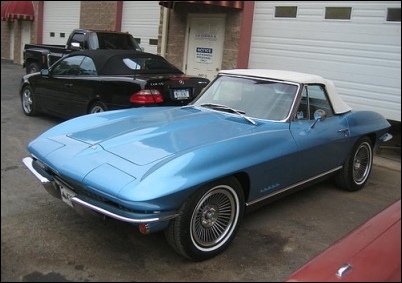 We have had many requests for a faster avenue for restorations in the past year or two
Stony Point, NY (PRWEB) March 7, 2006
Classic Restoration Enterprises is now offering a new classic car restoration package called Fast Track, which places an emphasis on timeliness and, of course, quality.
"We have had many requests for a faster avenue for restorations in the past year or two," says Melvin Benzaquen, President of Classic Restoration Enterprises, a company that specializes in classic car restoration. "With the popularity of the TV shows such as Overhaulin where a car is restored in a week, people now want their cars restored quickly. We have introduced Fast Track for the customer that wants his car restored in a short time frame. We will take a project in and restore it in an agreed upon time frame to the customer specifications. The time frame is anywhere from 1 week to 4 months depending upon the cars existing condition and the customers desired finishing time. No other restoration auto body shop in the country offers this service. We are excited about being the first to offer this for our customers. Customers now have a previously unavailable option not found in restorations. In this day and age where instant gratification takes precedence, now you can have your car and drive it too."
About Classic Restoration Enterprises, Inc.
Located just minutes outside of New York City, in Stony Point, NY, Classic Restoration Enterprises Inc., have the experience and expertise to restore and/or modify any vehicle. After all, their company philosophy is "Do it the right way" and that's how they approach every project, offering lifetime guarantees on their work. As a fully equipped restoration auto body shop, Classic Restorations specializes in total restorations, modifications and suspension or drivetrain upgrades for a wide range of vehicles. For more information, go to Classic Restoration Enterprises or contact Melvin Benzaquen at 845/429-4942.
About Melvin Benzaquen
At the helm of every classic car restoration project is founder and president, Melvin Benzaquen. A lifelong auto enthusiast and road racer, Melvin turned his passion for fine cars into an internationally recognized specialty auto restoration and modification business. An alumnus of the University of Michigan, Melvin earned an engineering degree from the renowned auto design and engineering program in Ann Arbor. He later went to work for Ford Engineering Research and Development. For several years, Melvin worked in the auto insurance industry. Melvin is a nationally recognized authority on classic American muscle car restoration and modification. He is a regular contributor to "High Performance Pontiac" magazine, both answering questions in the Tech Q&A section, and as subject of the Poncho Body Basics series. Melvin is actively involved in every project that comes through his restoration auto body shop, from installing exhaust systems to reshaping body panels, and even personally applies the decals at the end of a restoration. He is supported by a staff of highly skilled mechanics and artisans who work on five to ten project cars at a time.
Press Contact:
Melvin Benzaquen
Classic Restorations Enterprises, Inc.
http://www.classicresto.com
The classic car restoration experts
845-429-4942
###