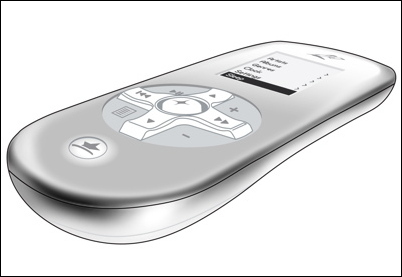 Concord, CA (PRWEB) March 6, 2006
CeBIT -- Hanover, Germany (PRWEB via WORLDVIEW) March 6, 2006 -- Keyspan announced its new TuneView™ Remote, together with accessories that enable users to control an Apple® iPod® or iTunes®.
Featuring an LCD screen and 2-way RF connectivity, the TuneView Remote displays the contents of your music library -- making it easy to fully control music without touching an iPod or computer. The new TuneView Remote will be on display at CeBIT in Hall 25, Stand E62.
The Ultimate iPod Remote Control
When used in conjunction with Keyspan's TuneView Dock for iPod, a TuneView Remote gives users the ability to not only play/pause, adjust volume and change tracks but to see the contents of the iPod, as well. It's an entirely new way to remotely manage music on an iPod.
The dock features a powerful ARM7 processor and 2-way radio. The remote feature a 2-way radio and color LCD screen. Keyspan's TuneView* technology enables information about your music to be transmitted from the iPod dock to the remote's LCD, allowing you to control the iPod as if it were in your hands.
Unlike recently announced iPod docks that display only limited data on a nearby TV screen, Keyspan's TuneView products deliver comprehensive iPod data around the house or office.
The TuneView Dock for iPod conforms to Apple's "Universal Dock" design. Simply pop in a dock adapter to perfectly fit any iPod with a dock connector. The dock is designed for use with all 4G and 5G iPods including click wheel iPods, the iPod mini, the iPod nano, and the iPod with video. The dock includes a USB power adapter, USB cable, audio cable (3.5mm stereo to dual RCA) and three dock adapters.
Control iTunes on a PC or Mac
When used with Keyspan's TuneView USB adapter, the TuneView Remote can be used to remotely manage iTunes running on a Mac® or PC. With the ability to see your music when not at the computer, it's now much more convenient to use a PC or Mac as a music server for your house or office.
The TuneView USB adapter plugs into a USB port on a PC or Mac. TuneView software is provided to manage the interaction between iTunes and the TuneView Remote. TuneView USB works with Windows 2000, Windows XP and Mac OS X.
Pricing and Availability
The TuneView Remote has an MSRP of $99. The TuneView Dock for iPod has an MSRP of $79. Both will be available in May. The TuneView USB adapter has an MSRP of $39 and will be available this summer.
About Keyspan
Keyspan offers the industry's most comprehensive line of remote controls for the PC, Mac and iPod. Keyspan's award-winning presentation remotes are top sellers in the business and education markets. Keyspan's entertainment remotes are valued by consumers using the PC, Mac and iPod for music and video.
Editors can reach Keyspan at 510-222-0131 or via e-mail at info @ keyspan. The Keyspan website is http://www.keyspan.com
Contacts:
Mike Ridenhour, Keyspan, 510-222-0131 x102;
Bill Gram-Reefer, WORLDVIEW, 925-215-8463
Patents pending. TuneView is a trademark of Keyspan.
# # #