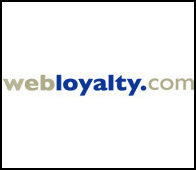 We are excited about achieving another year of profitability and expect to continue our significant revenue growth in 2006
Norwalk, CT (PRWEB) March 6, 2006
Webloyalty , a leading provider of online marketing and subscription services, today announced it increased total revenues to $108.6 million in 2005, a 26% increase from its $86.2 million total revenues in 2004. Webloyalty also has had 12 consecutive quarters of profitability and a 91% compound annual growth rate over the past 3 years. Leading Internet retailers turned to Webloyalty to drive new revenues, repeat purchases and provide significant new value to their customers.
During the past year, Webloyalty completed a strategic transaction with General Atlantic LLC, a leading global private equity firm, which helped drive its revenue growth and also strengthened its leading position within the online marketing industry. Webloyalty was also ranked among the top 10 fastest growing technology companies in North America in Deloitte's 2005 Technology Fast 500 Program and ranked No. 1 on the 2005 Deloitte Connecticut Technology Fast 50.
"We are excited about achieving another year of profitability and expect to continue our significant revenue growth in 2006," said Rick Fernandes, CEO and founding partner of Webloyalty. "Our ability to deliver valuable marketing services to our clients has been an important part of Webloyalty's growth and helped position Webloyalty for continued success."
This year, Webloyalty renewed multiyear, multimillion-dollar marketing contracts with clients, such as Time-Life, Haband Online, Joann.com, Marketworks.com and Lillian Vernon, and in 2006 has already signed a contract with FTD.COM, (NYSE: FTD). Webloyalty's customer base has also grown to more than 1.6 million subscribers and its largest e-commerce clients generate millions per year in commissions, with programs typically driving between $0.50 and $2.00 per customer transaction.
Webloyalty's trustworthy, subscription-based programs deliver to its members savings and travel discounts, cash rebates, extended warranties and fraud protection, among many other benefits. The programs include Travel Values Plus , Buyer Assurance , Wallet Shield , Reservation Rewards , Shopper Discounts & Rewards and its newest program, Distinctive Privileges .
About Webloyalty
Webloyalty is one of the leading online subscription and marketing services companies providing customized programs to e-commerce, travel and other fee-based businesses. Through its range of innovative Internet products, like Reservation Rewards, Webloyalty enables its clients to generate new revenues and increase repeat purchase rates while offering their clients' customers a range of subscription services in a credible and trustworthy environment. Founded in 1999, in response to the emerging needs of e-commerce companies, Webloyalty has a client roster of 100 companies. Since its inception, the company has been dedicated to marketing responsibly on behalf of its clients to their customers by offering a new model of customer-friendly subscription services. Today, over 1.6 million online subscribers enjoy savings and protection from Webloyalty's services. Most recently, Webloyalty was named the fastest growing technology company in Connecticut, finishing first in Deloitte's prestigious Technology Fast 50 Program for Connecticut, and finished No. 8 on the 2005 Deloitte Technology Fast 500, a ranking of the 500 fastest growing technology companies in North America.
Contact:
Edelman
Stephanie Schulman
212-642-7702
# # #