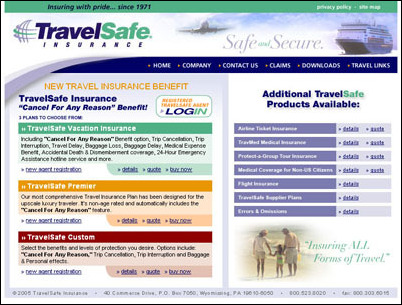 We've become the gold standard in travel insurance products through innovation, experience and excellent customer service
Reading, PA (PRWEB) March 7, 2006
In light of recent events, travelers are recognizing the importance of being prepared for anything as they traverse the globe. Travel Insurance protects against anomalies that can come without warning, leaving expenses without the trip to accompany them. So many things can go wrong—sometimes before boarding the airplane. With more than thirty years in the industry, TravelSafe Insurance specializes in providing protection against these unforeseen circumstances by giving travelers the option of purchasing a travel insurance plan.
If a supplier happens to go out of business, tourists' trip costs don't have to go down with it. Protect vacation investments by insuring them, to the level you choose. Best of all, TravelSafe Insurance does not have a restrictive list of suppliers in cases of financial insolvency. They will cover most suppliers, with the only limitation being the few suppliers who are presently operating under bankruptcy protection.
Travelers don't have to leave their vacation to chance. Purchasing third-party coverage from TravelSafe Insurance protects policy holders in cases of baggage loss or damage, illness, terrorism or financial insolvency of a tour operator, cruise line or airline. Travelers have the option of buying a travel accident insurance plan directly from TravelSafe Insurance via their website. They may also purchase a plan through one of the many TravelSafe approved travel agencies that sold them their vacation package.
"We've become the gold standard in travel insurance products through innovation, experience and excellent customer service," says Mr. Scott Perfetto, President. "Since 1971, we've been leading the way in developing new solutions for the insurance needs of individuals and families throughout the United States and Canada. Our products are underwritten by the most reputable and respected insurance companies in the business."
TravelSafe Insurance has been revolutionizing the industry for over thirty years, and the innovations continue today. With their exclusive "Cancel for Any Reason" option, TravelSafe Insurance allows customers to cancel their trip up to two days prior to departure and still receive a refund of up to 75% of their non-refundable pre-prepaid trip cost. This unprecedented travel accident insurance plan reimburses policy holders in cash.
Because each customer has his own set of needs, TravelSafe offers a variety of plans and options, allowing travelers to select coverage that best suits their situation. All plans come with the security of a 24-hour emergency assistance number, ensuring customers wherever they find themselves. With state-of-the-art security and fraud prevention measures, the company's comprehensive, user-friendly website offers ultimate online convenience.
The website is streamlined for both agents and customers to use. Customers can browse the site for a travel accident insurance plan, view quotes, print enrollments, and submit claims, all online. TravelSafe Insurance prides itself on its claims processing procedure. All claims examiners undergo extensive training and are committed to providing expedient, fair and friendly service to all customers.
About TravelSafe Insurance:
Family owned and operated, TravelSafe Insurance is a division of the Chester Perfetto Agency, Inc., founded in 1971. CEO Chester Perfetto served as a naval officer during the Korean War, worked as a schoolteacher, and earned his Masters Degree before moving into the insurance industry. His son, President/COO Scott Perfetto, came onboard in 1974, launching the American Association of Travel Agents the same year as a means to provide insurance education to the travel agent community. Wife and mother Doris K. Perfetto serves as Secretary/Treasurer.
###