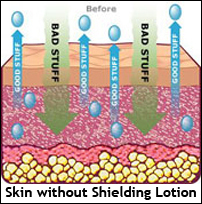 Los Angeles, CA (PRWEB) March 7, 2006
The desire to hold on to our youth shows no signs of abating, and according to the American Society for Aesthetic Plastic Surgery, 157,061 facelifts were performed in 2004 up 25 percent from previous years. This desire can be so strong that it drives people of all ages to questionable practitioners for anti-aging treatments, sometimes at the expense of their health.
There are always risks associated with surgical procedures like facelifts, even when they are performed by specialists in a medical practice. Anti-aging therapies, such as Botox, are also popping up at salons, and spas, where if an administering technician is not properly certified, he or she may be ill-equipped to deal with the possible emergencies that can occur from injecting any medication, or the necessary sanitation associated with proper injection and disposal of the needles.
One safe and effective anti-aging therapy showing great promise is shielding lotions, a new skincare treatment that protects the skin and locks in the natural oils and moisture.
"I'm not a big fan of plastic surgery," says Dr. Peter Helton, a board-certified dermatologist and medical director of the Helton Skin & Laser Institute in Newport Beach, Calif. "You are guaranteed to look different, but you are not necessarily guaranteed to look better. With a shielding lotion you prevent the dehydration that ages skin. We use far too many products that strip the protective layer off the skin and this can lead to deterioration of the skin's condition."
Since the first signs of aging are fine lines due to dry skin, the effect of a shielding lotion can be profound.
Trish House of San Diego tried a shielding lotion because her dry skin was taking a beating in the hot Santa Ana winds. Then she found to her surprise that the lotion made her look younger.
"My skin got so dry I felt like I was being eaten by invisible fire ants," says House. "I used a shielding lotion on my arms and legs and got instant relief. Then I noticed that the thin skin on my lower legs looked young again and had lost that shiny, papery look. I thought, 'I might be onto something here', so I used it on my face as well."
"The lines on my face have reduced dramatically and the skin under my chin is not wrinkling as much while I lose weight," says House enthusiastically. "Not only do I feel great, but I look much younger too."
Many people use anti-aging products on their face, but tend to neglect their hands and body, which can instantly give away their age. Shielding lotions work on hands, neck, body and face and are a useful tool in the arsenal against age-related skin disorders.
For more information contact:
Pete Grimaldi
21st Century Formulations
800.540.4790
# # #