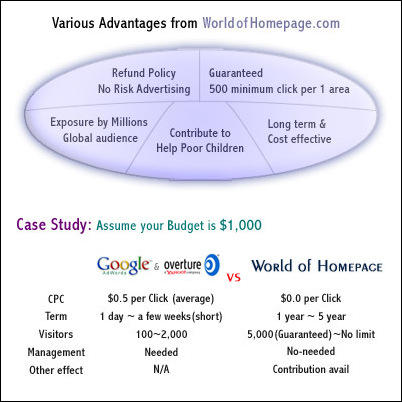 WorldofHomepage.com is designed to be a globally useful information portal into global commerce, travel, living, shopping and arts and entertainment
(PRWEB) March 8, 2006 –-
WorldOfHomepage.Com, an innovative global advertising and marketing idea, allows advertisers to reach customers from around the world and lets users explore the sites of foreign and exotic cultures the world over. About to be launched by Seung Chul Yoo, a young Korean businessman, the site allows users to stake claim to virtual real estate and purchase pixels displayed on regional maps of the globe. Yoo is also driven by the desire to raise money to benefit poor children worldwide.
"WorldofHomepage.com is designed to be a globally useful information portal into global commerce, travel, living, shopping and arts and entertainment," said Yoo. "My basic idea is to connect businesses and individuals across the globe to provide easy access to information."
WorldofHomepage.com is a true global information exchange. Businesses can place one pixel ad on one site and have access to web surfers from around the world. People can search anywhere, in any country, to find what they are looking for.
Virtual land cost $100 for groups of 100 land-based pixels and $400-$1,000 for 100 ocean pixels. Users can simply click on their desired area and will get an automatic price calculation. Yoo is certain his virtual real estate will prove to be a less expensive but long term and extremely effective advertising method. He is promising refunds if advertising on WorldofHomepage.com is not a better value that advertising through search engine advertising programs.
Once complete, Yoo hopes the site will become not just a place where companies must appear for premier online ad placement, but a place surfers can go to explore world cultures. Whether on a mission to find a certain kind of business in a specific place or driven by curiosity, advertisers can be sure their ad will find its way to the computer screens of people around the globe.
Currently, Yoo plans to donate $1 million from money raised by http://www.worldofhomepage.com to charities helping poor children. "Every time I make $100,000, I will make a donation," Yoo said. "I will also show the financial status of each penny the WorldofHomepage.com is making."
Yoo is excited not just by the powerful global communications tool he has created. He's energized by the ever evolving nature of http://www.worldofhomepage.com.
"Something new will be created every moment and all users are able to participate," he said.
For more information, visit http://www.worldofhomepage.com.
###