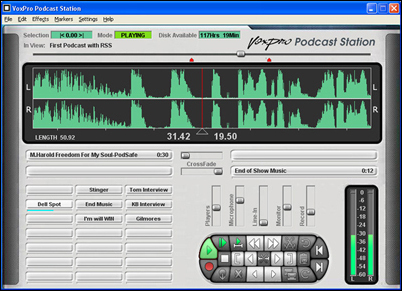 Podcast Station makes producing a show easy. Having the ability to pre-set your music, jingles, sound bites and effects, mix them on the fly, produce and then publish your program to the net is absolutely what it's all about
SEATTLE, WA (PRWEB) March 8, 2006
Audion Laboratories is shipping their new podcast audio production and publishing software, Podcast Station, effective immediately. Podcasting is creating audio content for audiences listening on their computers and portable media players.
Podcast Station is based on the company's award-winning VoxPro PC recording and editing software platform, known internationally for its easy of use, simplicity, reliability and production speed in radio broadcast news and on-air studios.
This single interface program allows everyone and anyone to record, mix, edit and publish personalized audio broadcasts to the web, whether at home or in the office. Podcast Station allows publishing online with robust RSS, iD3 and iTunes support, making the software an all in one solution for beginners and pros alike.
Designed for emerging online podcast markets, Podcast Stations' on screen buttons let users assign commentary, music, sound effects, and interviews from virtually every kind of file format (MP3, WAV, WMA and AIFF). Content is then mixed, for uploading and play on personal computers and mobile devices.
"Podcast Station makes producing a show easy. Having the ability to pre-set your music, jingles, sound bites and effects, mix them on the fly, produce and then publish your program to the net is absolutely what it's all about" says Audion Laboratories CEO Charlie Brown.
For a ten day free trial download and complete information about Podcast Station, go to http://www.podcaststation.com (Podcast Station).
Company Information
Audion Laboratories, Inc. is a digital editing software solutions manufacturer. Founded in 1993 by former Seattle radio air personality Charlie Brown, the company is committed to providing the best, most reliable, easy to use digital audio production and publishing software to professional and amateur audio producers. Products are sold worldwide. For company information go to http://www.audionlabs.com (Audion Labs)
Audion, Podcast Station, VoxPro, VoxPro, and VOICESLIP are trademarks of Audion Laboratories, Inc. within the United States and/or other countries. The names of actual companies and products mentioned herein may be the trademarks of their respective owners.
# # #