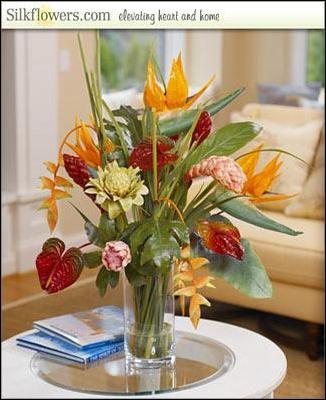 Many people are disappointed with ordering live flowers online. The quality can vary and they only last a few weeks
White Plains, NY (PRWEB) March 8, 2006
Silkflowers.com today announced the official launch of its retail web site, which offers a wide variety of silk flowers, artificial plants, potpourri, and accessories. The site features lifelike, designer silk floral arrangements and other unique decorating and gift giving ideas. With large, full color product pictures and SSL encryption, Silkflowers.com makes shopping online enjoyable and secure. Premium gift boxes are also available with many items.
"Many people are disappointed with ordering live flowers online. The quality can vary and they only last a few weeks," says Christopher Corelli, Silkflowers.com managing director. "Our silk flowers are professionally arranged, won't wilt during shipping, and can be enjoyed for years to come."
Crafted from advanced synthetic materials, today's silk flowers are incredibly realistic and virtually maintenance-free. Silk plants and flowers are a great alternative for people with allergies and those who want to enjoy natural beauty year round. Many arrangements are available in high-quality glass vases complete with Silkflowers.com's "acrylic water". This crystal clear acrylic is hardened in the vase, and gives the illusion of freshly cut stems in water.
The Silkflowers.com staff has more than 20 years of experience, and includes professional floral artisans. These floral artisans create hand-crafted arrangements using the finest silk flowers and foliage available, encompassing a wide range of styles. From sleek and modern to colorful country bouquets, Silkflowers.com offers arrangements to suite any decor. Some popular types of silk flowers include:
Roses
Orchids
Irises
Gerber Daisies
Peonies
Magnolias
Silkflowers.com also features a wide selection of artificial plants and trees, including bonsai, ficus, topiary, aspidistra, hosta, palm, ivy, fern, and many others. Each item has amazing botanic accuracy, and several decorative planters are also available.
New customers to Silkflowers.com will receive 10 percent off their first order when they sign up to join the Preferred Customer List. Preferred Customer List members can also receive exclusive offers, special discounts, and new product announcements via email.
About Silkflowers.com
Silkflowers.com is an online retailer of high quality silk flowers, plants, trees, potpourri, home fragrances, and more. Located in Cincinnati, OH, Silkflowers.com products are shipped factory direct and are backed by a 30-day money back guarantee. For more information, please visit Silkflowers.com.
# # #